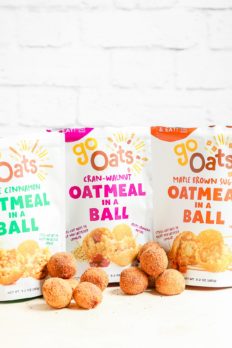 GoOats creator Nahum Jeannot always liked food, so much so he made a career as a chef. One of his favorite foods is oatmeal. He has fond memories of his mother and grandmother always having a hot bowl of oatmeal made for him for breakfast. One day, while working as a chef at a Hyatt Regency hotel, he was charged with creating a breakfast buffet. The rest, as they say, is history.
Nahum wanted a fun finger food for the buffet – something nobody ever heard of before. He thought of his childhood favorite and concocted oatmeal balls with different flavors. They were a huge hit with the buffet crowd. For the next several years, he perfected his recipe. He got small business mentoring from SCORE DC, a small business incubator and he won their pitch competition. That propelled the business from concept to reality.
Now, Nahum sells GoOats on Amazon and in a slew of Whole Foods and Heinen's Markets. He positions the oatmeal balls as a healthy, quick and easy breakfast. There are 4 flavors: blueberry, maple brown sugar, cran-walnut and cinnamon. Ordering online is pricey – almost a dollar per ball. Nahum needs to get this in more stores so he can keep unit costs down. He likely wants a Sharks help growing his retail presence. Will a Shark like these balls?
My Take on GoOats
I love a warm bowl of oatmeal with a touch of brown sugar. I used to eat it all the time until I moved south. Now I go with cold cereal. I was never one to buy a lot of fancy breakfast foods, but I'll bet these are good. Based on some of the reviews I read on Amazon, the cran-walnut flavor is to die for.
As with many Shark Tank food products, I'll probably give these a try out of curiosity. But if I want oatmeal, I'm more likely to grab some Quaker Oats.
Will Sharks eat Oatmeal?
Back in season 9, Mark invested in Mush, an oatmeal snack food designed to compete with yogurt. Like GoOats, they emphasized the health aspects of the product. Since Mark invested in that company, he'll likely pass on this opportunity. As for the other Sharks, it will likely depend on the valuation.
Once again, Mr. Wonderful will likely pass as he loathes food businesses that require refrigerated shelf space. I don't think Kendra will bid either. If Nahum gets a deal, it will be from either Lori or Barbara.