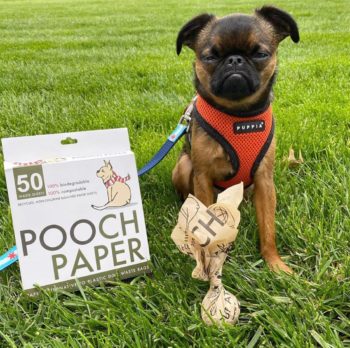 Besides inventing PoochPaper, Tracy Rosensteel has a lot on her plate. She's a sales director for a global food service company and she hosts and produces a travel biography show. Pooch Paper is why she's in the Tank though and she created the product to help the environment.
Dog poop is everywhere there are dogs and most responsible owners pick up their dog's poop. Usually, people use a single use plastic bag.  While effective, plastic bags are an environmental nightmare. They take 500 years to decompose and, when you put some poop inside, it creates more problems. With 21 billion pounds of dog poop going into landfills, there are literally billions of poop bags cooking up methane gas in landfills. Methane causes the atmosphere too warm, contributing to global warming.
Tracy's solution for a greener way of disposing of the brown stuff is PoochPaper. It's a recycled sheet of 12 inch by 12 inch paper. The paper is treated with a grease resistant coating so it won't break down when picking up poop. Just grad the poop, twist up the paper and voila, you have a compostable, biodegradable vessel to dispose of your dog's waste. Much better than those methane bombs we're planting now.
Tracy wants to expand her sales – right now she's selling out of an Etsy shop – and eventually have dog parks, breeders' and other dog related concerns adopt her new product. That takes time and cash. A shark could sure help with the cash.
My Take on PoochPaper
I have a 70 pound American Bulldog. She's an awesome dog, but her poops tend to be on the large size. We take her to the dog beach in our town and to various dog parks for exercise, not to mention walks around the neighborhood. I pick her poop up always and dispose of it properly. I use the plastic dog poop bags.
While I really like the idea of this product, I'm not sure if the paper is big enough for larger dogs. The first time I get dog poop on my hands using this, I am done! Perhaps she should sell a larger size for bigger dogs. If she did, I'd give it a try.
Will Sharks Back the Pooch?
I believe Tracy will be credible and the Sharks will like the idea but I don't think she gets a deal. First of all, she's got too much going on. This almost seems like a side business that would take a backseat to her other endeavors. The Sharks want entrepreneurs laser focused on their business, not running it as a hobby or side hustle.
Secondly, her website is not something that a Shark would build. She has a base website, but when you go to make a purchase, you are redirected to an Etsy shop. Etsy is a perfectly legit way to sell online, but it just doesn't scream "I GOT A DEAL ON SHARK TANK." Unfortunately for Tracy, I think all Sharks will be out.