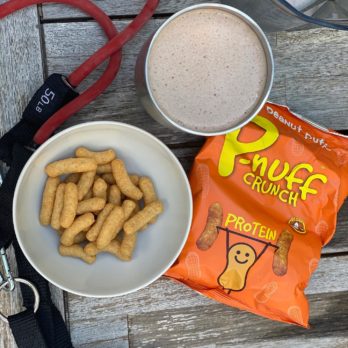 P-Nuff Crunch creator Juan Salinas spent the better part of his adult life making snack foods for industry giants like Kraft, Cadbury and Nestle. Juan is a fitness addict and bodybuilder, so he often felt a disconnect between what he was making for the masses and what he ate for his own nutrition. In 2015, the Honduran native decided that he was going to create his own snack food – more in line with his nutritional philosophies.  He founded Perfect Life, LLC – the company that makes P-Nuff Crunch.
While getting his MBA in entrepreneurship at Rutgers, P-Nuff won the Rutgers Business Plan Competition in 2018. After that, it was off to the races. He developed a healthy, protein packed snack puff that's gluten free and actually good for you. Unlike most snack foods, which are corn based, PNuff Crunch uses Navy Beans as its base ingredient. Navy beans pack a lot of protein, are low carb, have lots of fiber and they're more eco friendly to grow than corn.
The other big ingredient is peanuts. They're flavorful and most people like them. Like Navy beans, they also are low carb, high protein, high fiber and they contain many vitamins and minerals. Combined with other natural ingredients, the beans and peanuts make for a healthy yet tasty snack that looks and tastes like junk food, but is actually good for you.
Right now, you can buy P-nuff at Shoprite stores in the greater New York area, independent health food stores and on Amazon. Any self respecting snack entrepreneur wants broad distribution. That takes cash and cache – both of which a Shark could bring to the table. Will a Shark take a bite out of this healthy snack puff business?
My Take on P-Nuff Crunch
I try to eat healthy most of the time, but there are times I want that crunchy, junky snack food. A I always try a healthy snack when I am introduced to them, sometimes even on Shark Tank. Last season, I was introduced to Just the Cheese in episode 1120. I've ordered the product three times since.
I will definitely try this product out. Since I'm not in New York, I'll have to buy it on Amazon. At $50.00 for 15 bags, it's a tad pricey versus an in store purchase, but I'll try it anyway. If I like it, I'll get them again!
Will Sharks Bite?
With no Rohan Oza guest sharking this year, the lone "food expert" is Daniel Lubetzky, but he's not on the panel tonight. Lori and Barbara have several food items in their Shark Tank portfolios, so they know the snack food space. Kevin loathes snack businesses as the cost of shelf space is at a premium. Mark has shown an interest in healthy foods in recent years and Kendra is a bit of a wild card.
So will Juan get an offer? If he does, it will be from Mark, Lori or Barbara. Kendra may even team up with one of these three to get her feet wet in the Tank. Assuming the numbers are right for the Sharks and they like the taste, I believe he'll field offers from one of, or all three of these Sharks.