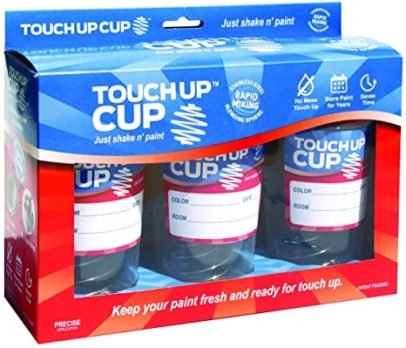 Carson Grill, the 15 year old inventor of The Touch Up Cup is going places. He's one of those kids who sees a problem and finds a way to fix it. One day, his dad Jason asked him to help touch up some paint around their house. When they opened the paint cans, the paint had gone bad. Paint cans don't have a completely air tight seal once opened, so over time, they can ruin the paint.
Carson put on his thinking cap and came up with a simple solution: the Touch Up Cup. It's basically an air tight, plastic container with a stainless steel mixing ball inside. When you need to touch something up, just shake the cup and paint away. They claim paint will last ten years in the Touch Up Cup.
Carson does most of the shipping and day to day operations while his dad, Jason, handles the relationships with manufacturers and patent issues. Jason says the business brought them closer together, too. As of now, they sell from their website, Wal Mart and Amazon. They likely want a Shark's help getting into other big box home improvement outlets.
My Take on The Touch Up Cup
I've done more than my fair share of painting over the years and I like this idea. It's something I'd definitely buy when I do my next paint project. My pecuniary nature hates it when I have to dispose of spoiled paint. I also like the idea of the mixing ball.
One thing I found while looking up this company is Frog Tape – a painting accessories company, is selling their own branded version of The Touch Up Cup. It makes me wonder if they stole the idea or if they are licensing it. If a company like that is on board, then so am I.
Will Sharks Want to Touch this Investment?
Sharks always respond well to kidtrepreneurs, so I think Carson will get a deal. The Frog Tape thing makes me think so even more. For a 15 year old kid to be shipping product and hustling in a business like this is a little crazy. Licensing would be a great way to go.
Several Sharks like doing licensing deals: Kevin and Daymond in particular. Lori has a paint related product in the Paint Brush Cover, so she could have interest too. I think Carson does a deal with one of these three Sharks. I just hope Frog Tape didn't knock off Carson's product.