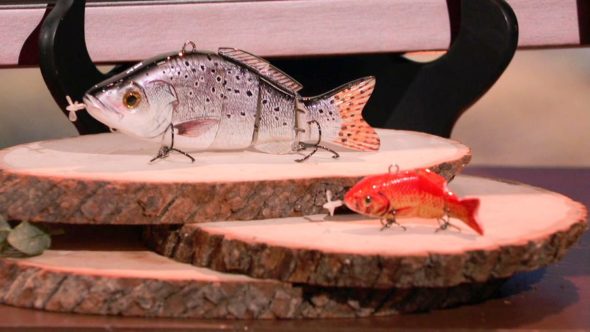 Kanz Kayfan and Sobhan Sanaee created The Animated Lure to make fishing a bit easier. Kayfan came up with the idea fore it while fishing the beaches of Corpus Christi, Texas during his college years. Back in 2015, he ran a  Kickstarter campaign that raised $22,041 to get the product made. It took two years to fulfill the orders as they had a lot of production issues with the overseas manufacturer.
The lures come in three sizes: mini, classic and saltwater. A mini lure costs $29.95, a classic is $32.95 or $34.95 depending on which skin you want. A saltwater lure is $79.95 due to its larger battery and anti corrosion construction. The Animated Lure moves with a mini propeller at the front of the "fish" and the body of the fish undulates as it moves. This makes it look like live bait. Lures come with different skins to mimic different types of bait fish.
They sell the product on their website and through a few online fishing stores. They'd like to get broader distribution, likely through big box sporting goods stores. While they don't have big sales numbers, they're hoping a Shark can help propel their sales. Will a Shark take  the bait?
My Take on The Animated Lure
I go fishing every day. I'm a purist and not a fan of this product. Part of the fun of fishing with live bait is catching the bait. I also use lures and different jigging techniques are fun to try to catch fish. Also, I question how long it would hold up in saltwater. Using this product seems like cheating to me.
Last fall, my cousin visited for a week. She likes to fish too and she bought a robotic lure at the  local bait shop. To be fair, I don't think it was The Animated Lure, but she didn't get one bite on the lure all week. I'm not a customer, but I wish them well.
Do Sharks Take the Bait?
There are a few reasons I don't think these guys get a deal. First, is Mr. Kayfan has his own counseling practice in Texas. Sharks like entrepreneurs who are solely focused on their business. The second reason is there are many robotic lures on the market. While they claim to have a patent pending, there are dozens of these kind of lures on Amazon.
Lastly, I don't think they have good sales numbers. In the video preview for this episode, they utter a very low number in sales. While Mark has invested in fishing products before and Daymond is an outdoorsman, I don't think either of them bid. My guess is this lure doesn't work on Sharks.