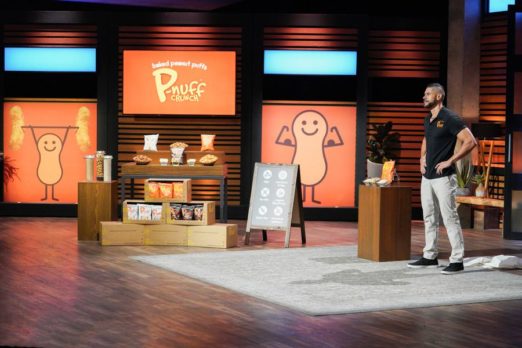 Doctor Juan Salinas seeks a Shark to invest in Pnuff Crunch, healthy, peanut based snack puffs, in Shark Tank episode 1202. Salinas spent 25 years in the food business creating snack foods for huge corporations like Nestle, Kraft Foods and other giants of the industry. Salinas is a bodybuilder and does marathons and triathlons, so he's very conscious about what he eats. The irony of a health nut creating junk food was not lost on him.
In 2015, he founded Perfect Life Nutrition, LLC with the goal of developing a healthy "junk food" for snacking. After hundreds of tries, he finally perfected his snack and Pnuff Crunch was born. The puffs are made with all natural ingredients: Ground Navy Beans, White Rice, Peanut Oil, Tapioca Starch, Organic Cane Sugar, Brown Rice Protein, Roasted Peanuts and Salt. At only 130 calories per serving, they are completely vegan, plant based, non GMO, gluten free and are a good source of fiber.
You can buy Pnuff Crunch at Shoprite Markets and other independent markets in the greater New York area. They're also available on Amazon. There are three flavors: original, cocoa and cinnamon. A 4 ounce bag will set you back about $3.50 but it's a snack you can feel good about. Salinas likely wants a Shark's help with gaining broader distribution. Will a Shark want to work for these peanuts?
Company Information
Video

Posts about Pnuff Crunch on Shark Tank Blog
P-nuff Crunch – Healthy Snack Puffs
Pnuff Crunch Shark Tank Recap
Juan enters the Shark Tank seeking $300,000 or 10% of his business. He gives his pitch and tells his background. When he tears off his lab coat revealing a ripped body, the lady Sharks get a little flustered. Barbara immediately offers $300,000 for 10%. The Sharks sample the snacks and appear to like them. A bag sells for between $3.29-$3.99 and they cost 75 cents to make. Distributors pay $1.70 wholesale. He says it's nutritional snacking.
He tells a little about his past – he has a PhD in food science and he was a formulator for major companies. Pnuff Crunch is in 450 stores so far. Last year he did $104,000. He had to build his own manufacturing facility because of the peanuts. It cost $385,000 to build the facility. Current year to date sales are $65,000 – flat largely due to the Covid-19 pandemic. He projects $300,000 by the end of 2020. Pnuff Crunch is the only snack of its kind.
Mark said he's tried the product before and he "ate the whole friggin bag," he likes it. He offers $300,000 for 25%. Juan says it will be a $100 million brand in 5-6 years. He counters Mark with 15% and Mark goes to $400,000 for 25%. Juaan counters with 20% and Mark holds firm. They do the deal for  $400,000 for 25%.
Pnuff Crunch Shark Tank Update
The Shark Tank Blog constantly provides updates and follow-ups about entrepreneurs who have appeared on the Shark Tank TV show. The deal with Mark never closed,  probably due to the high percentage Mark wanted. Pnuff Crunch is available at Wal Mart, Target, CVS, Walgreens, The Vitamin Shop, Amazon  and many other retailers. As of  November, 2022, annual revenue is $1.5 million and growing.