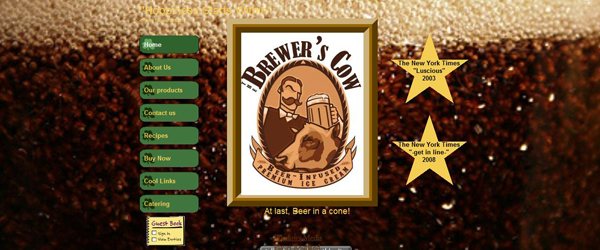 Steve Albert, Larry Blackwell and Jason Conroy come to the Shark Tank in episode 306 with their product, Brewer's Cow Ice Cream. Albert has spent 10 years creating ice cream. He developed a process for adding the beer flavoring to the ice cream, not masking existing flavors, but creating a new flavor experience.
The idea of beer and ice cream paired may seem a little off the wall, but the trio believe they've hit upon a unique idea that will capture the imagination of the American public. After all, who doesn't love ice cream, and many people around the world also love a good, cold beer. Will the Sharks take a bite out of this unusual treat?
Brewer's Cow Ice Cream Shark Tank Recap
The partners come to the Shark Tank seeking $125,ooo in return for a 15% stake in the future of Brewer's Cow Ice Cream. Albert presents the product. Conroy adds that the plan for the future is to take the company to the next level, with the help and support of a Shark deal.
A model dressed like a German barmaid hands out samples of the ice cream, which the Sharks accept with enthusiasm. Robert Herjavec even thanks her in German. The Sharks are impressed with the flavor of the ice cream.
Daymond John is lactose intolerant, and not interested in the ice cream business. He's out. Kevin O'Leary says he's "lack-of-sales intolerant." He wants to know about their numbers. Blackwell tells the Sharks that in their first year of business, selling to restaurants and ice cream shops, they've managed to sell $5,000 worth of ice cream. The numbers aren't impressive, but will the possibilities presented by the interesting flavor overcome the Sharks' dismay at the news?
Blackwell adds that Whole Foods has an outstanding order. The Sharks want to know how much the order is for, but the answer they receive is confusing. The trio can't seem to get their numbers correct. Barbara Corcoran remarks that the conversation is "Like 'Who's on First?," the old Abbot and Costello sketch. When the partners can't answer the question clearly, Corcoran goes out.
Robert Herjavec tells them, "There are certain things in every business you've got to know every morning when you wake up, and one of them is 'what do I need to do to break even." For that reason, he's out.
Mark Cuban tells the trio that their best opportunity is to go to the big beer companies and license the product. He's out. Kevin O'Leary, in typical "Mr. Wonderful" fashion tells them he's out "Because I think you're ice cream bozos." He doesn't believe any national chain will pick up the novelty brand.
Brewer's Cow Ice Cream Shark Tank Update
After their terrible showing in the Shark Tank, the partners went into a downward spiral. Their website went down and social media accounts went dark. Within the past year or so however, they seem to be making a comeback. The new website is polished, but offers only a limited number of products for sale. Their social media accounts are sporadically updated. It appears that the trio is no more adept at business now than they were when they appeared on Shark Tank, but they haven't given up on their dream to bring beer-flavored ice cream to every palate in America.
Since this episode aired in 2012, other beer ice cream brands have emerged and industry giants like Ben & Jerry's and Haagen Daz have beer flavors in their repertoire.  They took their website down in 2014 to reorganize and find a "strategic investor." They came back for a little while but went dark again in late 2015. They haven't sold any ice cream online since. While the guys still list the business as "open" on their LinkedIn pages in July, 2021, it looks like this business is dead.
Posts about Brewer's Cow on Shark Tank Blog
Beer Infused Premium Ice Cream
Brewer's Cow Company Information