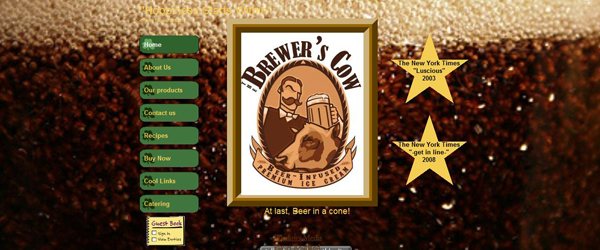 Beer infused premium ice cream sounds like a the merger of two polar opposite food items; in fact, my first reaction is one of disgust. The Brewer's Cow of Old Lyme, Connecticut scoops its way into the Shark Tank this week.  Steve Albert, Brewer's Cow president and his partners, have been making their beer infused premium ice cream since "the turn of the century" and the strange frozen confection has legions of loyal fans and numerous foodie awards.
Now don't get me wrong, I really like beer, and I like ice cream too. I just never heard of the two ingredients combined, beer infused ice cream is a novelty to me. According to the Brewer's Cow website, they use 16% butterfat cream and premium beers  in their ice cream and, in case you were wondering, "all alcohol is evaporated in the cooking process. I would not be averse to trying this stuff.  I enjoy being adventurous with my palette and the stuff is supposed to be delicious.
I am sure the Brewer's Cow guys will have samples of their beer infused ice cream for the Sharks to taste. Anyone who is pitching a food product brings samples. I'm sure we'll know whether the Brewer's Cow gets a deal from the moment the Sharks taste the beer infused ice cream. If they like it, there is a shot.
I am betting they don't get funded, and it has nothing to do with the strangeness of ice cream made with beer. I always check a company's website for these write ups and the Brewer's Cow website is kind of clunky. There's broken pages and it looks like it was done by the guys themselves since it is an Intuit Small Business website. That's not a vibrant web platform for a company poised to go national (I do predict it will crash mightily on show night though). The other thing that makes me think there is no deal is a quote from the ABC Shark Tank press release:  "It becomes obvious to the Sharks that three ice cream makers from Old Lyme, CT don't have much money sense when pitching their beer infused premium ice cream." If the sharks are questioning their numbers, they probably don't stand a chance.
So if you want some beer infused premium ice cream, you'll have to hop in the car and get down to Old Lyme. I don't think you will be seeing it on store shelves soon.