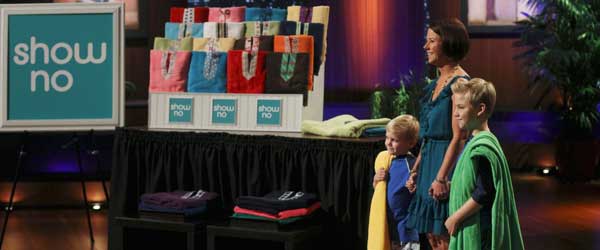 Shark Tank is on tonight! Is it just me, or is Shark Tank one of the best reasons to love Fridays? There is quite a bit going on in this Blog. Interviews with entrepreneurs, setting up targeted advertising campaigns, site upgrades, and of course, our weekly free giveaway!
This week's prize is a Show No Towel, courtesy of Shelly Ehler and Lori Greiner! I just picked the winner and the lucky gal is Lisa Duhon- congratulations Lisa. Thanks so much to the folks at Show No Towels for providing this week's prize. We will be announcing next week's prize at some point over the weekend, so make sure you check back. Remember, you can sign up for our weekly free give away HERE and, once entered, you are eligible for every drawing! You'll also get advanced notice on any other special goodies we have in store for Shark Tank fans.
Our weekly free give away of free Shark Tank Merchandise is just one of the ways entrepreneurs can leverage the readership of this site. We offer very low advertising rates for Shark Tank entrepreneurs (and others) who want to reach fans of the show.
Shark Tank Fans get the entrepreneur's perspective on what it is like behind the scenes. We love interviewing the entrepreneurs and are looking into doing video interviews in the near future. Most fans enjoy watching the Sharks battle each other, and so do I; but I also enjoy the entrepreneurs who appear on the show.  I have gotten the opportunity to speak with many of them and I enjoy their spirit and their stories.
Tonight's entrepreneurs are GoGo Gear, The Brewer's Cow, Barkem's, and The AVE Venice. The follow up segment is Ride-On Carry-On.
Here is a video preview
Now that ABC has replaced Wipeout with Shark Tank re-runs on Saturday nights, things should really be busy here on This site! Make sure you check in for the latest news, reviews, predictions and interviews.