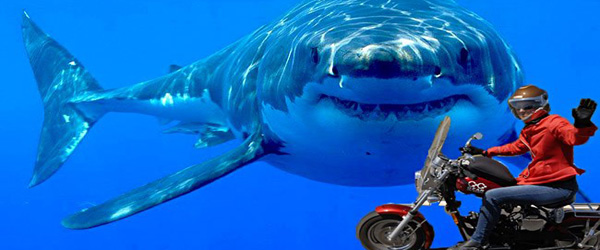 GoGo Gear is an entrant into the Shark Tank Friday night. I am a fan of the show because I'm an entrepreneur and, like most fans, I like to watch the Sharks go at it. I already reviewed GoGoGear earlier this week, but another reason I am interested in this entrepreneur is I am a scooter owner and enthusiast.
After a particularly mild winter here in the northeast, I was looking for the true arrival of spring to break out my scooter. As gas prices approach four bucks a gallon, I like saving money and my scooter does just that. I can travel about 100 miles on a gallon of gas. I use it to go to the store and for many other little errands around town. I even take it to some of my Hot Dog Stories.
Besides saving money, it's fun! There's nothing like traveling on any kind of motorbike. The open air gives a feeling of freedom that I just can't describe. The only thing that stinks about riding my scooter is getting whacked in the cheek by a falling acorn.
My son likes to take it to school too. The part-time employed teen is finding keeping a car on the road can get expensive- especially when you only make $8.50 an hour bagging groceries. He's on spring break this week, so we took some time to get the scooter out of moth balls and get it ready for spring. We brought out the video camera too.
The following video is just me horsing around on the scooter (and the video editing platform). I am not wearing any GoGo Gear, in fact I look like I'm about to bust into a chorus of YMCA!
Like I said, it was a beautiful day- I wouldn't need a GoGo Gear jacket on a day like today!