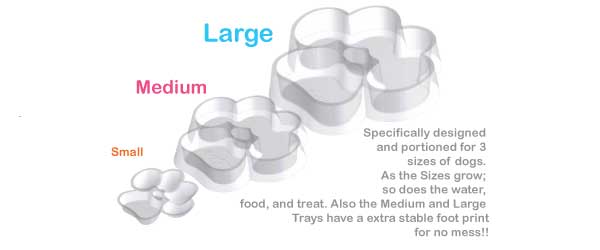 Portable Pet Meals by Barkem's is the latest pet related business to take a swim in the Shark Tank. What exactly is a portable pet meal? According to the Barkem's website, portable pet meals are:  "a pre-packaged meal suited just for your pet. Contained in separate compartments inside a recyclable, single use container is: one serving of premium food, portioned to different sizes and species of pets, a bowl of vitamin enhanced pet water, and treat sealed separately for desert." Each meal also comes with a waste bag to clean up after your dog.
The product is billed as a convenient way for pet owners on the go to bring along a complete meal for their dog while traveling. Thirty-nine percent of U.S. households own at least one dog, that's about 51,365,000 potential customers. I think that's a sizeable enough potential market, but the Sharks don't seem too keen on pet related products, at least lately. A portable pet meal is a good idea. I know when we bring our dog down to the beach, we have to pack a meal for her- water, dog food, and usually a snack. It would be convenient to have all that in one container; it's one less thing to have to bother with when bringing the dog along. We wouldn't use them for everyday meals, but I could foresee about a dozen weekends per year where we'd put a portable pet meal to use in our family.
Barkem's is owned by Blake St. Clair, who has a design company and is listed as the owner of the company. He applied for a trademark last July and has a patent pending on the portable pet meal as an innovation in the "animal foodstuffs" category. The July date coincides with the time the show was taped, so I am curious as to whether Mr. St. Clair applied for the trademark before or after taping.
Robert Herjavec is a Shark who owns a dog, so maybe he will be interested in Barkem's, but I don't see much evidence of a deal being struck out there. On the Barkem's website, there is no mechanism for ordering any of their portable pet meals. There is only a contact form for "sales inquires." I would think if one of the Sharks believed in the portable pet meal concept, there would at least be a rudimentary shopping cart on the Barkem's website.
While I think Barkem's portable pet meals are a great idea, I just don't get the feeling the Sharks bite on this deal. The combination of poor acceptance of pet products in the past, the perceived limited appeal of the travel food concept, and the lack of an ordering mechanism on the website tells me the Sharks are "out" when it comes to Barkem's.