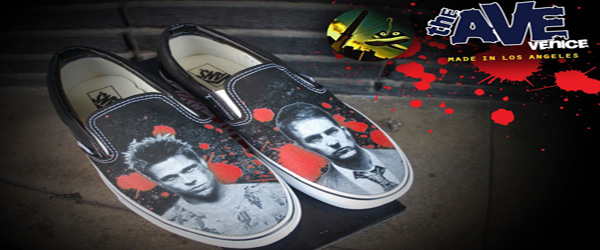 The AVE Venice is a funky, fun "custom everything" shop located in Venice, California. As the second LA area entrant in the Shark Tank this week, they hope to land a deal to take their worldwide custom printing empire to the next level. The AVE Venice prints custom tee shirts, which is nothing new under the sun. What makes The Ave Venice special is their patented process for printing on Converse Chuck Taylors and Vans Slip Ons. Custom sneakers on Shark Tank is a first, I believe!
Nick Romero, founder of The AVE Venice claims many celebrity customers and they have the photos on their blog to prove it.  In addition to the shoes, they customize a wide variety of American Apparel garments. American Apparel is the "sweat shop free," made in the USA garment manufacturer based out of LA.
The AVE Venice claims Franchise Inquiries
The AVE Venice website claims they have a ton of franchise inquiries why wouldn't they? The concept is not new, but their angle with the shoes is. It would seem that it would be easy to duplicate the Venice store anywhere while keeping the online brand strong. I could definitely envision seeing The AVE New York, The AVE Boston, The AVE Chicago, or even The AVE Dubuque!
On the surface, this has Daymond John written all over it, but other sharks could bite too.  It will most likely come down to numbers. The AVE Venice has created quite a following since opening in April 2010, and they have a strong brand that has been recognized in Rolling Stone, The Wall Street Journal and many other national media. If they can demonstrate solid profits and project that out to multiple retail outlets, I think they will have all the Sharks fighting for a piece of their business.
Who knows, The AVE (insert city name here) could be coming to your town or local mall very soon!