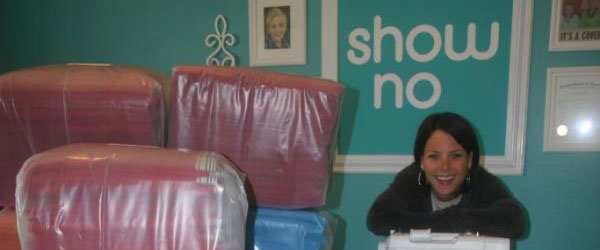 We are delighted to announce this week's Free Shark Tank Blog giveaway: A Show No Towel!
Shelly Ehler, who made waves a few weeks ago by getting a deal from Lori Geiner on the spot and had her Shark Tank Episode re-run last night, has been gracious enough to provide this prize to readers of the Shark Tank Blog.
If you have kids who are into swimming, a Show No Towel is a perfect addition to the pool or beach bag. As you can see from the picture, orders have really been piling up for Shelly and we couldn't be happier for her! Shelly sent along a towel for my seven year old and she loves it- she even wanted to wear it to bed! It's great for kids and there will be adult sizes coming out soon too. Shelly has been hard at work closing some "big accounts" and Lori is busy sourcing a manufacturer, so the Show No is going to be in a lot of places soon.
Register To Win ShowNo Towel! It's FREE…
If you want to get your hands on a Free Show No Towel, go to our Weekly Free Giveaway page and enter the contest.
Each week, we will have a prize from a previous Shark Tank entrepreneur. We give out free merchandise to a lucky winner each week. You only have to enter once, but you can enter as many times as you like to increase your chances. We will draw one winner each week from all entrants. This is a great thing the past Shark Tank entrepreneurs are doing for our readers and fans of the show. We interview entrepreneurs who have appeared on the show regularly and we ALWAYS ask them to hook us up with free merchandise, so check back often to see what is available.
To enter to win this week's Free Shark Tank Merchandise, a free Show No Towel,  Click HERE.