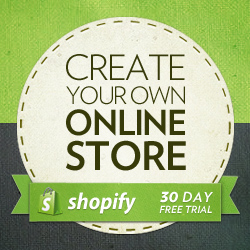 Online stores are a necessity for just about any business these days. Shark Tank entrepreneurs are no exception. Litter Jewelry, funded by Daymond John and Mark Cuban, and Kisstixx, funded by Cuban alone, both use  Shopify to power their online stores.
It's no secret that appearing on The Shark Tank drives traffic to entrepreneurs' online stores. Every week there are stories of websites crashing during and after a show airs. With 6 million plus viewers, The Shark Tank drives server crushing traffic to websites and online stores alike. Unlike some of their Shark Tank brethren, the Litter Jewelry and Kisstixx online stores did not crash on show night.
Litter Jewelry sold over $70,000 in jewelry in their online store in the three days following their air date. Kisstixx saw a 3000% increase in traffic to their online store in the 24 hours following their Shark Tank appearance. In this day and age, the first contact most businesses have with consumers is their website. Clean, well-functioning websites with easy to navigate online stores provide a good first impression. How many times have you been frustrated by a confusing interface, slow page loads, or just been turned off by a crummy design when you visit a website for the first time?
With his tech background, Mark Cuban certainly "gets it" when it comes to setting up online stores. He always seems to be in the mix when there is any technology centric entrepreneur in the Shark Tank.  Any company he has funded has a sleek website and, when applicable, a well done online store. I wonder if he has an interest in Shopify? If he doesn't, he certainly seems to appreciate their quality.
Shopify is the leading provider of everything you need to set up online stores. You get your own online store, you can accept credit cards, use your own domain, customize your store's design and Shopify hosts everything for you. There is a 30 day, no risk, free trial if you want to take it for a test drive and plans start at $26 a month. Considering it allows you to have an instant, hassle free online store, it's a great value. If Shopify can handle the crazy traffic to Litter Jewelry and Kisstixx's online stores, they can certainly handle anything you can throw at them.
If I were opening online stores of my own, my ecommerce solution would be Shopify. If you are an entrepreneur looking to set up an online store for yourself, you can start your 30 Day free trial HERE.