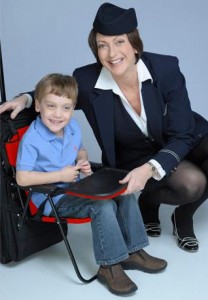 Strap your kid to your luggage and cruise the airport without worry. Ride-On Carry-On is the answer to keeping your kids with you when you are cruising to your gate.
Flight Attendant turned Entrepreneur, Darryl Lenz and her husband Randy chopped up a few beach chairs and created a prototype seat to attach their child to their carry-on luggage. So many people commented on the chair that they decided to turn it into a real business.
The chair mounts to almost any piece of luggage and makes transporting your child through airports a cinch.
Originally, the Lenz's went on Shark Tank to target comedian turned Shark, Jeff Foxworthy, but ended up scoring a deal with Barbara Corcoran who requested the logo be placed on every tray sold.
The Lenz's focused on the retail market, while Kevin O'Leary and others focused on licensing to the luggage manufacturers. Ultimately, Barbara was fine with the retail business and they are doing extremely well.
Barbara Corcoran said in later interviews that the company is doing extremely well and will be sharing their Shark Tank Success story this Friday night's episode.
In my first post, I noted that the former Ride-On Carry-On website needed much work. The new site looks great and functions well. I bet Darryl, Randy and Barbara will rake in the dough during this Friday Night's episode of Shark Tank.
Ride-On Carry-On is a fun, easy way for your children to cruise the airport in style people watching and best of all, you don't have to worry about your child running off!
Are Entrepreneurs Born that Way?
Darryl was a flight attendant for over 18 years and suddenly became an inventor entrepreneur, which proves that anyone has ability to start their own business and succeed. Not every Entrepreneur is born an Entrepreneur, therefore, .
Congratulations to Darryl and Randy Lenz on your Shark Tank Success.