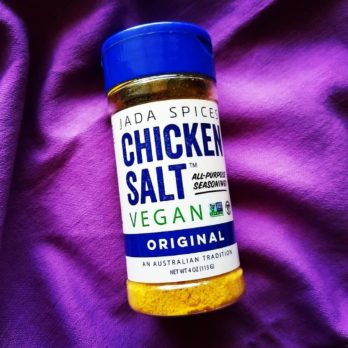 Khasha Touloei and Maynard Okereke want the Sharks to do a seasoned deal for Chicken Salt, their Vegan seasoning, in Shark Tank episode 1205. Chicken Salt is ubiquitous in Australia, but the Australian version is very high sodium and contains MSG. Kasha, who grew up in Australia, reformulated the American version of the product while training to be a doctor. His product is totally healthy, healthy enough for him to  recommend it to patients.
The parent company, JADA Spices, carries a half a dozen flavors: Original, Lime, Barbeque, Turmeric, Reduced Sodium and Red Pepper. All the spices are 100% Vegan, MSG free and Non-GMO. Any one of them can be used on fries, poultry, red meat, seafood, vegetables or anything you'd put salt on.
Both men are good at multi tasking: Kasha is a practicing dermatologist and Maynard is an engineer who's also  the founder of Hip Hop science, a business that teaches STEM to kids. Maynard also works full time at FLOW Media group, a social media digital agency. The guys balanced all this while attending food shows all over the USA the past two years promoting their products.
They were successful. Chicken Salt is the number 1 selling seasoning on Amazon. As they say, it's good on anything and you don't need to be vegan to use it. They likely want a Shark's help getting someone to manage the business. Will a Shark spice up a deal for  these products?
Company Information
Video

Posts about Chicken Salt on Shark Tank Blog
Chicken Salt Shark Tank Recap
Khasha and Maynard enter seeking $250,000 for 20% of the business. They tell their story, hand out samples and start fielding questions. The Sharks try the various spices on different foods and they like the flavor. They're really impressed with the newest product: Plant-Based Chick'n Mix. This lets you make vegan, chicken flavored patties and nuggets at home from a simple mix.
While they like the taste, some of the Sharks are skeptical. Kevin doesn't think they have enough focus and he goes out. Lori thinks it's "too early" and goes out too. Barbara touts her successes with other food products, but she wants to be an equal partner. She offers $250,000 for 33.3% and they accept.
Chicken Salt Shark Tank Update
The Shark Tank Blog constantly provides updates and follow-ups about entrepreneurs who have appeared on the Shark Tank TV show. With the first re-run of this episode less than two months after the original air date, it's hard to know whether the deal closed or not. The company doesn't appear in the list of Shark Tank investments on her website, but it is still too soon to tell.
As of July, 2021, it appears the deal with Barbara did not close. The company changed its name to Jada Brands as it added several new items to its menu. In addition to the vegan chicken, they added Mediterranean Chicken and a faux pork product. You can find their products in Whole Foods, Sprouts, H-E-B, Central Market, and Amazon. As of August, 2022, annual revenue is $4 million.