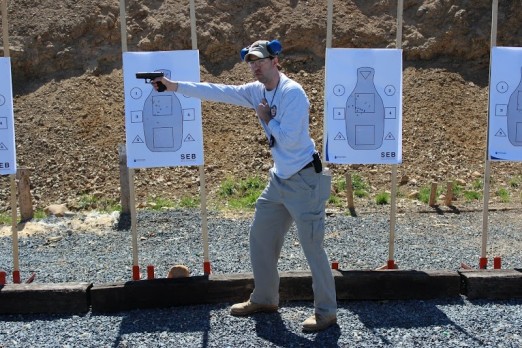 Jason Hanson, former CIA Officer and author of The Covert Guide to Concealed Carry, pitches the Sharks on his series of information products from his Concealed Carry Academy. Hanson teaches people how to safely handle hand guns and get their concealed carry permit in 27 states. He also has a Spy Escape and Evasion course and a number of other white papers and free reports to go with his courses.
After 6 years with the CIA, Hanson left their employ and started the Concealed Carry Academy. He claims he's trained "thousands of students in concealed carry, pistol, rifle, shotgun, and escape & evasion courses." His mission is teaching personal protection in a fun, relaxed environment.
The mainstay of Hanson's online educational empire is his concealed carry course which allows people to qualify for a concealed carry permit in Virginia, Alaska, Arizona, Arkansas, Florida, Idaho, Indiana, Kentucky, Louisiana, Michigan, Mississippi, Montana, Nebraska, New Mexico, North Carolina, North Dakota, Ohio, Oklahoma, Pennsylvania, South Carolina, South Dakota, Tennessee, Texas, Utah, West Virginia, and Wyoming. His other courses deal with guns and personal protection.
He's likely looking to the Sharks for money to amp up his production values.
Concealed Carry Academy Shark Tank Recap
Jason entered the Tank incognito to demonstrate his "spy skills." After explaining his CIA background, he bound Robert with zip ties and Robert escaped using a shoelace. Jason was looking for cash to roll out his Spy Escape and Evasion courses nationally. Daymond offered $150,000 for 45% of the business and they shook hands on a deal.
Concealed Carry Academy Shark Tank Update
The Shark Tank Blog caught up with Jason for an update last fall. Jason gets a televised update in episode 607 in season 6. More details will follow after the update segment.
In the update segment, Jason reveals he constructed "Spy Ranch" in Utah. He teaches evasive driving, firearms training and more. He's developed branded products and done over $2 million in sales! Daymond went to the ranch and did some driving and shooting – he thinks Spy Ranch could be a franchise.
While no franchise has emerged, Jason continues to travel the country giving classes. He even had a one year engagement at the Stratosphere in Las Vegas. He also wrote a book entitled Spy Secrets That Can Save Your Life: A Former CIA Officer Reveals Safety and Survival Techniques to Keep You and Your Family Protected. Jason and Daymond continue to conduct digital marketing campaigns to preppers and concealed carry enthusiasts too. As of August, 2021, he's still in business doing $3 million in annual revenue.
Posts About Concealed Carry Academy on Shark Tank Blog
Spy Escape Update with Jason Hanson
Concealed Carry Academy Information