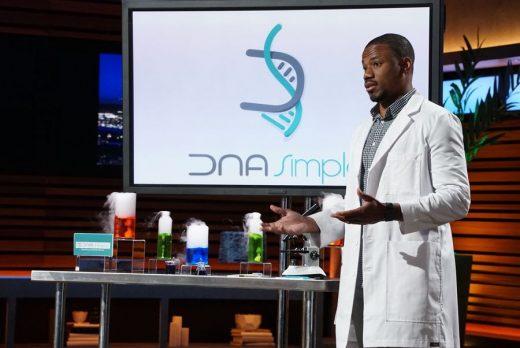 Oliver Noel seeks a Shark's help growing DNA Simple, his DNA sampling business that compensates donors, in Shark Tank episode 912. Noel started the business in 2015 as the issue of "bio-rights" began gaining traction. People who provide DNA samples for research are demanding more control over their personal information. DNA Simple compensates people who provide some basic information with a saliva sample.
Donors receive $50 per sample and know their DNA information is used for medical research. Compensation increases the likelihood of donors contributing to research efforts. DNA from such samples is in demand from drug companies, the government, and academic centers to use DNA data to create medical treatments. These samples are a potentially huge market with some people estimating an over 20 billion dollar market for this kind of data in just a few years.
DNA Simple wants to capitalize on this market by acting as a sort of middleman for DNA samples. Users sign up at their website and provide some basic medical information. Then, they search through a list of studies and apply for those they wish to donate to. If you're accepted to a study, they send a saliva kit and $50. You provide the sample and get paid. Unlike other DNA companies, you don't pay a charge for providing a sample. Many companies that provide users with DNA information retain the rights to sell your information to entities conducting studies; you – the provider of the data – have no control and receive no compensation. With DNA Simple, your information is kept private and is only used for the studies YOU choose to participate in.
The issue of bio-rights and DNA sampling is complicated, highly regulated and a growing area of research. Mr. Noel's company puts the power in the donors' hands and makes its money acting as a go-between. Donors provide samples, DNA Simple pays them, then they sell that data to the entity conducting the study. In a marketplace that is rapidly evolving, Noel hopes a Shark can help with managing growth and gaining market share.
Will a Shark donate some of their DNA to help this business explode?
DNA Simple Company Information
Video

Posts About DNA Simple on Shark Tank Blog
DNASimple Helps you "Sell" Your DNA
DNA Simple Shark Tank Recap
Oliver will pitch the panel of five Sharks on the business and its prospects for growth. He'll need to convince Mark Cuban, Daymond John, Sir Richard Branson, Lori Grenier, and Robert Herjavec that the company is worthy of a Shark investment. A good business plan, good financials, and sales data will impress the Sharks, but he'll need to show them HE is capable of running the company to "Shark standards." A full pitch re-cap on DNA Simple will be available on Shark Tank Blog once this episode airs.
DNA Simple Shark Tank Update
The Shark Tank Blog constantly provides updates and follow-ups about entrepreneurs who have appeared on the Shark Tank TV show. Once an episode has aired, we monitor the progress of the businesses featured, whether they receive funding or not and report on their progress. The Shark Tank Blog will follow-up on DNA Simple and Oliver Noel as more details become available.