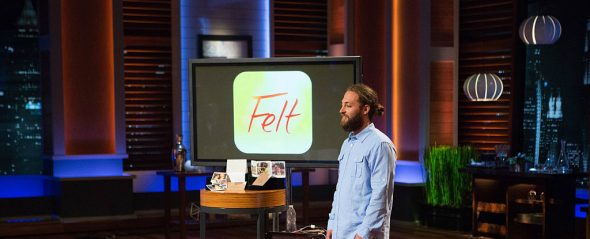 Tomer Alpert pitches Felt, an app that lets you mail a hand-written card from your smart phone, in Shark Tank episode 726 – the season 7 finale. Alpert created the app in 2013 to bring more personalization to our increasingly digital and detached lives. As it says on their website, "it's snail mail, reimagined for the modern world."
The concept is simple. You choose a photo from your phone, or use one of their many themed designs. Then, using your finger or a stylus, you "write" a short note and address your envelope while in the app. For those with poor penmanship, you can use one of their fonts. Once you edit and design the card in the app, you submit it, and they take care of the rest.
The cards are square and everything is printed on premium paper. The ink they use makes it look like you really wrote it. The folks at Felt put your card in the envelope, slap a stamp on it, and put it in the mail. It only costs three bucks to send a card, and there are more discounts if you purchase credits toward future cards. The app is currently only available for Apple products. Alpert probably wants a Shark to help him scale the business. How will the Sharks feel about Felt?
Felt Shark Tank Recap
Tomer came to the Sharks looking for an investment of $200,000 in exchange for 6% of Felt. He handed out samples of the Felt cards to the Sharks, explaining that each of the cards represents features available through the app.
The Felt app has been downloaded 60,000 times, and it has a 4.5 star rating on the Apple iTunes store. Tomer explained that there is a large market available if he is able to break into the wedding market. He hopes to build appeal for professionals as well- anyone who needs to send a large number of cards to a variety of recipients is a potential customer for Felt. He believes that the ability to store recipient addresses in an individual's account will appeal to brides and professionals. Robert Herjavec doesn't believe the technology or the idea are proprietary and he's out.
The customer acquisition cost is currently $8. Kevin O'Leary already has a wedding business in his portfolio, HoneyFund. He likes the app, and believes it could be a money maker if partnered with his ability to reduce customer acquisition cost to nearly zero. He makes Tomer and offer: $225,000 in exchange for 10% of the business.
Considering Mr. Wonderful's predatory track record, this offer is nearly a gift. Mark Cuban, Barbara Corcoran, and Lori Greiner immediately go out, with all the Sharks advising Tomer to take the offer. He accepts their advice, and O'Leary's offer.
RESULT: DEAL with Mr. Wonderful for $225K for 10%
Felt Shark Tank Update
The Shark Tank Blog constantly provides updates and follow-ups about entrepreneurs who have appeared on the Shark Tank TV show. Once an episode has aired, we monitor the progress of the businesses featured, whether they receive funding or not and report on their progress.
The deal with Kevin never closed, but Felt has taken off. The app is currently available through the iTunes Store and online. The social media accounts with Facebook and Twitter are still active, pointing toward a healthy, growing company. Swimming with Sharks turned out to be a heart "Felt" success for Tomer.
In a June, 2022 check in, the company is still in business with $1.5-$2 million in annual revenue.
Posts About Felt on Shark Tank Blog
Felt Company Information
Video