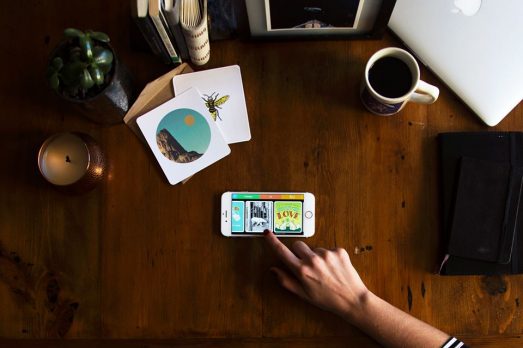 Tomer Alpert thinks people in the digital age want more personalized communications, which is why he created Felt, an app that designs, prints, and mails hand written greeting cards users create on their iPhones. Alpert hopes to wow the Sharks with his business in the season 7 finale. He created the app, and the business, back in 2013 and its grown every year since.
Part of the reason for the growth is Felt's cards bring an intimacy to an increasingly online world. Nobody wants an email or text message for their birthday, they want a card! It shows the recipient that the sender cares and it's a physical representation of that.
It's a simple concept. Say you want to send a graduation card – all you need to do is create a card from images on your phone or use one of the hundreds of templates in the Felt app. Next, you write a note with your finger or stylus or use one of the many handwriting-like fonts to type it. Edit your design and click the button – that's it. Felt prints the card, puts it in a "handwritten envelope" (which you also design), and mails it. It's that easy.
So far, it's just an iPhone app, but an Android version can't be too far behind. The cards are square, about the size of an old Polaroid photo, and they're printed on high quality paper. At three bucks a card, Felt's hand written greeting cards are actually cheaper than buying a standard greeting card and mailing it, and you do it all from your phone!
My Take on Hand Written Greeting Cards
I send hand written greeting cards to family for birthdays, anniversaries, Mother's Day, Father's Day, etc. Like most people, I schlep down to a local store, buy a card, write a note, address an envelope, and mail it. Most greeting cards these days cost north of $2.50 – unless you buy the bargain variety. I usually pick my cards based on whether  it's suited for the recipient. I'm that guy in the card aisle reading EVERY card until I find one that's right.
With Felt, I can totally customize my card for the intended recipient and personalize it myself. At three buck a card, it's close to (if not less) than what I typically spend on greeting cards. My recent spend on Mother's Day cards topped seven bucks, so Felt would have been cheaper and more personal. When you add the convenience factor to the cost savings, Felt looks like a winner. For that reason, I am IN.
*** I downloaded and used the app for some graduation cards and it worked like a charm!
How do Sharks feel about Felt?
My first impression when I saw Felt was that it was very similar to Postcard on the Run, which did a deal on the air with Robert back in season 5 (the deal never closed). Like Felt, Postcard on the Run allowed users to create, print, and mail postcards from an iPhone. The company ceased operations in October 2015. If the Sharks can't get over the comparison between the two companies, Felt's pitch could be over before it starts.
Another greeting card company, LovePop, did a deal with Mr. Wonderful earlier in season seven (the deal closed). Like Felt, they approach the industry from a personal perspective. They, like Felt, celebrate the intimate, "undigital nature" of the finished product. If Felt can demonstrate that, like LovePop, they connect with users and recipients on an intimate level, they'll have a shot.
If Felt has a reasonable valuation and the company has solid sales, they should field an offer or two.