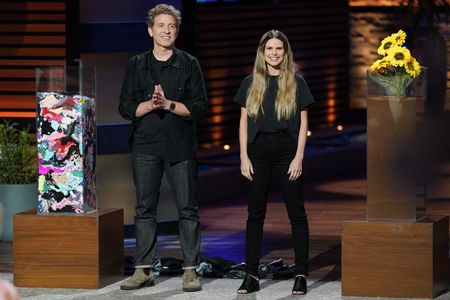 Jeff and Stacy Grace seek a Shark investment for KENT, their line of all natural, compostable underwear, in Shark Tank episode 1401. This episode is the first ever Shark Tank shot before a live audience. Stacy is an ex-pat Canadian who grew up gardening and composting. She's also a fan of Superman and the company name gives his alter ego, Clark Kent, a nod.
She wanted to create underwear that not only felt good, but was not bad for the environment. Using only organic, toxin free PRIMA cotton from Peru and compostable elastic material, she created her first set of women's undies to be soft and sustainable. She also wants to manufacture in the USA. Along the way, she met Jeff. The two were married and went on their entrepreneurial journey together.
They got things started with a successful crowdfunding campaign. They raised $25,000 on KickStarter in July, 2019. Unfortunately, the Covid-19 pandemic forced their LA factory to shut down and they didn't deliver finished products to backers until June, 2020. When they delivered, their customers were very happy with the finished product. The couple likely wants a Shark to scale the business quickly. Will a Shark  like these undies?
Company Information
Video

KENT Shark Tank Recap
Jeff and Stacy open with an "at home" segment. Stacy says she started in fashion ten years ago and saw the amount of waste in the industry and the amount of plastic used in apparel. Jeff's background is in advertising working for big consumer packaged goods brands. When the two met, Jeff had an urge to do something entrepreneurial so they decided to get together and build a brand.
The couple had a new baby 11 weeks prior to taping. They want to earn money to feed their family, but they also want their sun to have a more sustainable future. They want a Shark's capital to bring their business to the next level and to help them change the world.
Shark Tank Live
They cut to the live audience and Jeff and Stacy introduce themselves. They're seeking $200,000 for 5% of their business. They tell the Shark millions of pounds of underwear ends up in landfills every single day. Since most clothing is made with plastic components, it's not only bad for your body, it's bad for the earth. They unveil two see through containers. One is filled with old underwear and another is filled with soil and a sunflower.
As the crowd cheers, they each pull out a pair of their underwear and tell the crowd it's the first compostable underwear. It's 100% plastic free and 100% organic. When the undies are worn out, pop them in the compost heap and they'll compost into soil in 90 days. Their trade secret product design makes them stronger and softer than conventional underwear. They ask which Shark wants to help them turn fashion into fertilizer.
The Sharks have samples on their tables and pots with soil composted from the underwear. The Sharks seem impressed. Lori likes the look and feel and says they're thicker than what she expected. Jeff asks the Sharks if it's too risque to try them on on live TV. Next they reveal a photo shopped picture of the Sharks wearing KENT underwear.
The Questions Start
Daymond wants to know how they came up with the idea. Stacey says in her ten years in the fashion industry she noticed two problems with the industry: landfill use and microplastics. Most fabrics contain micro plastics so she looked for all natural underwear and found out it didn't exist. Lori wants to know the difference between KENT and other cotton underwear. Jeff explains they have a trade secret on the elasticity of the product and how it is compostable in the backyard compost heap.
One pair sells for $20-$24 and they cost $8.07 to make. Stacey admits it's premium pricing, but everything is made in America. Two years ago (2020), they had $30,000 in sales. In 2021, they did $120,000 and they are on pace to do $500,000 in 2022. Daymond questions the valuation. 85% of sales are direct to consumer and 15% is to a wholesale partner. They're launching in Nordstrom's later in 2022.
People who don't have access to compost can send their undies back to the company. Mark wants to know how many people have sent undies back and Stacy says not many because they're lasting a long time. Mark likes the mission, but questions the viability. In Q4 2022, they're launching men's undies and tee shirts.
Who's In?
Mark loves the mission, but thinks they're too small; he's out. Daymond doesn't like the valuation and thinks their prices are too high; he's out. Barbara says she loves small companies because there's so much room to grow. She offers $200,000 for 20%. Robert wants to know how often people buy underwear and the first audience poll in Shark Tank history occurs. The audience has three choices as to how often they buy underwear: every year or two, every three to five years or "why buy underwear?" Voting by text occurred for two minutes during the commercial break.
After the break, the poll results are in. 54% of respondents buy new underwear every year or two. 37% buy new underwear every three to five years and 9% say "why buy underwear." Robert wants to know why he should invest in Stacy, the entrepreneur. She says everybody told her it couldn't be done. When she met Jeff, he believed in her and they bootstrapped the business.
More Offers and a Deal
Robert believes in them and offers $200,000 for 15%. Kevin loves their Kumbaya story but hates the valuation; he's out. Lori offers $200,000 for 15%.  Daymond comes back in and offers the same. Jeff says he was targeting Daymond. After some back and forth, they accept Daymod's offer!
KENT Shark Tank Update
The Shark Tank Blog constantly provides updates and follow-ups about entrepreneurs who have appeared on the Shark Tank TV show. There is no new news about his company as of the Monday after the original air date. As of October, 2022, there is no hard evidence the deal closed, but the company issued a press release announcing the deal with Daymond. In August, 2023, the company has introduce tee shirts, crop tops, bikinis and more. The company did more than $500,000 in sales for 2022.
The Shark Tank Blog will follow-up on KENT & Jeff and Stacey Grace as more details become available.