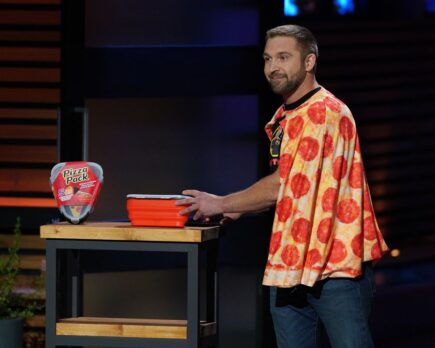 Tate Koenig returns to the Shark Tank to pitch Pizza Pack, his storage container for pizza slices. in Shark Tank episode 1401. Koenig unsuccessfully pitched the Cheese Chopper in season 12 and now he hopes for a better string of luck with his latest invention. It's a pizza shaped. collapsible storage container that save space in the fridge when storing leftover pizza.
He began selling the product in April, 2022. Each pack costs $24.99. He likely wants a Shark to help with inventory and licensing.
Company Information
Video

Pizza Pack Shark Tank Recap
Like the other pitches in Shark Tank Live, the pitch opens with a video "at home" segment. Tate is at home and he talks about his unsuccessful pitch in season 12. He recently bought a farm in Oregon where he lives with his girlfriend and daughter. He raises peaches, hazelnuts, goats and pheasants and has a warehouse where he creates inventions.
Part of his failure with the Cheese Chopper pitch is he only had pre-orders at the time. With Pizza Pack, he has lots of sales and customer feedback. Mr. Wonderful told Tate to "take Cheese Chopper out behind the barn and shoot it." Tate is still selling that product, but he thinks the Sharks will love his new invention. He says he has the perfect pitch and a pitch is like a pizza: it's all about the delivery.
As he begins his live pitch, Mr. Wonderful chides him for not "taking Cheese Chopper behind the barn and putting it out of its misery." Tate says it's cruising right along and he'll get there. He says he's giving the Sharks another chance to get in on the action with Mr. Cheese Pizza as he unveils a cape that is decorated with pepperoni pizza images.
He says everyone has tried to cram a pizza box with a few slices of pizza into their fridge, knocking everything over in the process and says he wants to think outside the box as he unveils the Pizza Pack. It's an expandable container shaped like a slice of pizza and it comes with five divider trays. He claims it can store an entire pizza. The lids also double as reusable pizza plates. It has a lock top lid to prevent "soggy pizza syndrome."
The Ask
Tate says he needs the Sharks' dough and is asking for $100,000 for a 10% slice. Mark calls Tate "so corny." The Sharks have Pizza Packs loaded with pizza which Robert says is awful. Mark asks the crowd if they like this idea and the crowd cheers. Lori says it's very well made, then Mark asks about the numbers. They cost $4 landed and sell for $24.99. Mark asks the crowd if they'd pay $24.99 and the reaction is mixed.
Tate started selling them in April, 2022 and has $250,000 in sales. He sells on his website, Amazon and Wal Mart's website. The company does advertising on social media and has a customer acquisition cost of $2.83. He says he'll make about $60,000 on what he's already sold. He has a utility and two design patents pending but there are already knock-offs on the market. He's gotten rid of all but one and is confident once the patents issue they can get rid of the last hold out.
The Offers
Tate only owns 35% of the company. He has two partner. They each put in $25,000 of their own money and have no debt. He wants the Shark's cash for inventory. Barbara chimes in and says she doesn't get the product, she's out. Robert says he didn't like the pizza and it's a one product company; he's out. Kevin says his last product was a loser, but this one is a winner. He offers $100,000 for 10% then he gets the crowd chanting "ROYALTY, ROYALTY!" He says because the crowd wants it, he'll take a $2 royalty per unit until he gets his $100,000 back then it goes to fifty cents per unit in perpetuity. Tate tells Mark he can't sell more because he doesn't have inventory. He wants a Shark for the money and for connections to national pizza chains. Mark says he hates investing in companies run by inventors but he likes buying them. He says he wants Tate to think about how much he'd sell the business for during the commercial break.
After the break, Mark says he wants a reasonable number. Tate says to buy it today he'd want $5 million. The Sharks howl with laughter. Mark calls it insane, but he loves the product. Mark wants him to think of another number. Daymond says it's a great licensing play and offers $100,000 for 25%. Lori calls Pizza Pack a hero and changes her offer to $100,000 for 15%. Daymond says he'll go to 20%. Tate counters Lori at 12.5% and she goes to 13%. Mark says he'll buy the company for $1.5 million. The crowd chants "LORI, LORI!" and Tate accepts her offer.
Pizza Pack Shark Tank Update
The Shark Tank Blog constantly provides updates and follow-ups about entrepreneurs who have appeared on the Shark Tank TV show. In the immediate aftermath of the original air date,  Tate completely sold out and was offering a 10% discount to customers who pre-order Pizza Packs for delivery on November 4 (the original air date wad September 23, 2022). The Shark Tank Blog will follow-up on Pizza Pack & Tate Koenig as more details become available.