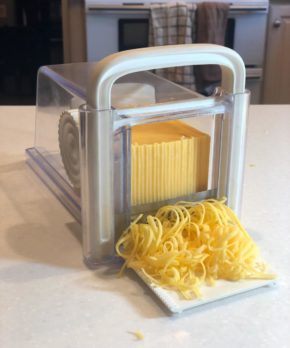 Tate Koenig, aka "Mr. Cheese," pitches The Cheese Chopper, his tool for slicing, grating and storing cheese, in Shark Tank episode 1215. Koenig loves cheese. Like any cheese lover, he buys and eats a lot of cheese. That gets expensive, but one way to save money is to buy blocks of cheese. The problem is it is hard to get uniform slices, cleaning cheese graters is difficult and potentially dangerous and storing blocks of cheese can result in waste.
That's why he invented The Cheese Chopper. It's a 3-in-1 cheese "machine." You store your block of cheese in the plastic box. When you want some cheese, you pick either the "hard" cheese slicer or "soft" cheese slicer or choose the grating attachment. You slice or grate your cheese right in the plastic box and when you're done, close it up and put it in the fridge.
Koenig got his business going with a successful Kickstarter campaign that raised $100,436 in June 2020 and a successful IndieGoGo campaign that raised $$111,826  in the same month. Like many people trying to start a business during the Covid-19 pandemic, he ran into manufacturing slowdowns. He just started delivering Cheese Choppers in mid February, 2021 – just a few weeks before the original air date of his episode. He likely wants a Shark's help with the manufacturing side of the business Will a Shark think this is a "grate" investment?
Company Information
Video

Posts about The Cheese Chopper on Shark Tank Blog
Cheese Chopper – 3 in 1 Cheese Gadget
The Cheese Chopper Shark Tank Recap
Tate enters the Shark Tank seeking $75,000 for 10% of his business. He gives his pitch hen the Sharks examine their samples. When he tells them about his Kickstarter, there are concerns. The Sharks unanimously believe he has no true feedback from customers and that he was too early to invest in. Tate leaves without a deal.
The Cheese Chopper Shark Tank Update
The Shark Tank Blog constantly provides updates and follow-ups about entrepreneurs who have appeared on the Shark Tank TV show. As of July, 2021, three months after the initial air date, the product is sold out on the company website. Tate is offering a 10% discount if you pre-order and wait 6-8 weeks for delivery.