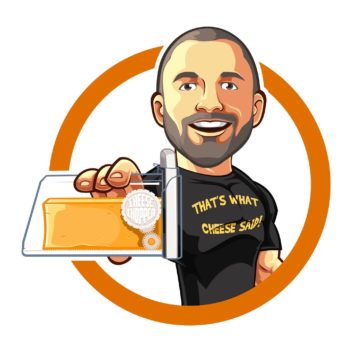 Cheese Chopper inventor Tate Koenig likes his cheese so much, he calls himself "Mr. Cheese." He eats a lot of cheese, so he found it to be expensive. The best way to save money on cheese is to buy it in big blocks, that way you aren't paying for a lot of processing and packaging. The problem with big blocks of cheese is they're difficult to slice uniformly and they can go bad if not packaged properly.
The Cheese Chopper  solves those problems. It serves as a storage vessel for big blocks of cheese and it has three attachments. The first attachment is a wire slicer for soft cheeses. The second attachment is a blade slicer for harder cheeses. Both attachments give you a uniform slice every time. The third attachment grates cheese without the fear of cut fingers or messy clean up. When you're done slicing or grating, simply clean the attachments and put the Cheese Chopper back in the fridge.
Koenig raised over $200,000 brining his product to life on Kickstarter and IndieGoGo. So far, that's the bulk of his sales as he just started delivering crowdfunding orders in February, 2021. When he taped his segment, he hadn't shipped any product. Of course the Covid-19 pandemic had something to do with those delays, but he likely wants a Shark's help with the manufacturing side of things. Will a Shark invest or will they think this product is too cheesy?
My Take on the Cheese Chopper
I am a cheese lover. I eat several pieces of cheese every day. in fact, I am eating cheese as I write this. When I first saw this product, I knew I wanted one, so I bought one. My wife and I are big swiss cheese fans. Swiss is far less expensive by the block, but until now, it was a pain to slice, so we bought expensive slices. That comes to an end when my Cheese Chopper arrives!
We also like fondue and we have it every Christmas Eve and New Year's Eve. Making cheese fondue involves grating a pound of Swiss cheese and melting it in hot white wine. I HATE grating cheese and this product is going to make that process SO MUCH EASIER. I can't wait for Christmas, in fact, I'll probably buy one for my parents this Christmas. I am definitely in.
Will Sharks Think This is a Gouda Investment?
Whenever a gadget type product come into the Tank, I'm always tempted to say it's a Lori product. She's the Queen of QVC and this is a totally QVC/infomercial type product. That said, I'm not sure Koenig gets a deal.
The reason I say this is twofold.  First, when he taped he hadn't shipped any product so the "too early" objection likely comes up. Second is the payment processing on his site is with Shop Pay, Google Pay or PayPal. While there's nothing wrong with any of these payment options, a company that did a deal with a Shark would have more sophisticated and integrated processing options. While I personally love the product and some Sharks may too, I think Koenig leaves with no deal.