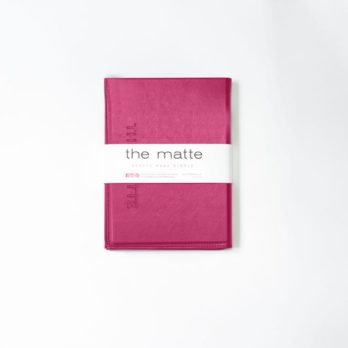 Melissa Clayton invented the Matte to solve a problem. The mom of three boys hated putting her hair dryer and makeup on her toilet while getting all gussied up in her small bathroom. She needed more counter space around her bathroom sink but that wasn't happening. So she created a small – about the size of an iPad when folded up – that would go over the sink and give her more room.
Clayton is no stranger to eCommerce. She founded Tiny Tags – an online personalized jewelry business – in 2012. That doesn't mean making the Matte came easy. In fact, many design firms wouldn't even work with her because she had a small budget. When she wanted to order her first run of 500 units, many manufacturers wouldn't do such a small run.
Luckily, she was able to overcome those obstacles and for the past four and a half years or so, she's been selling Mattes on her website and Amazon. They come in pink or black and cost $24.99. She probably wants a Shark to help her get more distribution as she's figured everything else out on her own.
My Take on The Matte
My wife doesn't wear a lot of make up. Occasionally she'll put on a little mascara and lipstick, but that's about it. I certainly don't wear make-up, so I don't think we'll be seeing one of these in our house anytime soon.
My oldest daughter wears make-up and she actually has one of these. Someone gave her one for Christmas last year. She says it worked great in her small apartment, but she recently bought a house with a dual sink bathroom with lots of counter space, so it may end up in a drawer somewhere. While I am not a customer myself,  I think it's a smart product.
Will Sharks go to The Mat and Invest?
This is a product one of the Sharkettes will invest in. I simply can't see Mark or Kevin bidding on this. Lori would be a good partner because it has her three hero element: broad appeal, easily demonstrated and small price point. I expect her to make an offer.
As for Barbara and Kendra, they could offer too, but I think Kendra will partner with Lori or Barbara to make a bid.