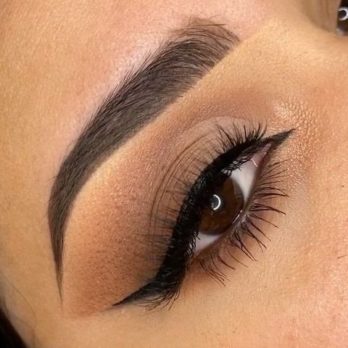 Ophthalmologist Dr. Anika Goodwin hopes the Sharks like Opulence MD Beauty, her line of glue free false eyelashes and other beauty products, in Shark Tank episode 1215. Dr. Goodwin, a former Physician for the US Federal Government, noticed that the glue on her false eyelashes damaged her real lashes. As a doctor and consumer of beauty products, she felt she was the perfect person to design healthy cosmetics that didn't damage eyes or skin.
The secret to her eyelashes is they are magnetic and use no glues. In addition to glue-free, magnetic lashes, she also makes eye makeup, and skincare products. There are magnetic eyeliners, brow care products and mascara. Additionally, she has gentle eye cleansers and make-up removers. Everything she makes and sells is up to Physicians' standards.
Dr. Goodwin launched her business on February 14, 2020 – Valentine's Day. A month later, the entire world shut down due to the Covid-19 pandemic. She sells product on her website and has a "Lashinista Starter Kit" for newbies. To apply, you put three coats of eye liner to the outside of the eyelid. Next you take the magnetic, mink hair false eyelashes and put them on. The magnets do all the work! She holds weekly, online lash application parties to teach people how to use her product and has a growing community of women in her social media accounts. She likely wants a Shark's help with the marketing and sales side of the business.
Company Information
Video

Posts about Opulence MD Beauty on Shark Tank Blog
OpulenceMD Beauty – Magnetic False Eyelashes
Opulence MD Beauty Shark Tank Recap
Dr. Goodwin enters the Shark Tank seeking $75,000 for 5% of her business. She tells her story and gets a big laugh when she says "lashes are the new boobs. Every woman wants a big and better pair." After the pitch, the Sharks open their samples. Mark actually tries his on. The Sharks are impressed with her medical background.
She has no patent and didn't invent magnetic lashes, she just "made a better mousetrap." Barbara likes the feel of the lashes, so does Kendra. She offers $75,000 for 20%. Dr. Goodwin counters with $100,000 for 20% and they do the deal.
Opulence MD Beauty Shark Tank Update
The Shark Tank Blog constantly provides updates and follow-ups about entrepreneurs who have appeared on the Shark Tank TV show. As of July, 2021, there is no evidence this deal closed. In the year since this episode taped, the company did a little over $1 million in sales. As of November, 2022, the deal with Kendra never closed.