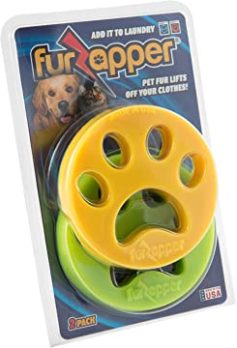 Michael Sweigart and Harry "Hairy" Levin pitch FurZapper, a device that separates dog hair from clothing in the washer and dryer, in Shark Tank episode 1215. Michael created the patent pending product back in 2016. Although Michael spent most of his adult life doing SEO and web marketing for car dealerships, he is a self confessed life-long inventor. He even keeps a notebook of ideas.
One of the ideas was Fur Zapper. The inspiration for the product came while he was doing special effects make-up work as a hobby. He was working part time for Fright Fest as a way to express his "art." He had a foam Zombie mask at home and when he dropped it on the floor, it got dog hair all over it. He rinsed it off and the hair came right off. When he tried throwing it in the washer and dryer, no hair got on his clothes.
He decided to make the product for himself using the silicon-based foam and tested different sizes. It's about the size of a hockey puck with paw print openings. He made a bunch for friends and family to test it, then he went to see a patent attorney. Once the patent was pending, he set up a website, did a little SEO and started selling product. Once set up, the product started selling 50-100 orders per day. Michael and a small staff hand poured every product. Eventually the went to Amazon FBA because they couldn't keep up with fulfillment.
WalMart Steps In
Harry showed Michael an ad for WalMart's "Made in America" program and they went down to Bentonville, Arkansas to pitch their product. They met with the pet and laundry buyers. The Laundry buyers loved it and decided to put it in all 3,888 stores! The buyers put them in contact with a Wisconsin based silicon manufacturer who could fulfill their demands. Now, they're expanding their online presence and seeking to expand into other big box stores. A Shark can definitely help them with that.
Company Information
Video

Posts about FurZapper on Shark Tank Blog
The Fur Zapper Zaps Fur Off Your Laundry
FurZapper Shark Tank Recap
Michael and Harry enter seeking $600,000 for 10% of their business. They give their pitch and tell their story then hand out samples. The business has $5 million in sales, which makes the Sharks wonder why they are in the Tank. They say they need help with setting up  their own manufacturing facility. When they share their sales numbers with the Sharks, the bidding begins.
Kevin gives two offers. The first is a $6000,000 loan at 9.5% interest for 5% equity. The Second is $600,000 for 20% equity. Barbara offers $600,000 for 5%. Next is Lori, who undercuts the other Sharks by offering $600,000 for 19%. Mark then offers $600,000 for 15%. Lori matches that and they decide to go with Lori if she agrees to extend a line of credit – she does.
FurZapper Shark Tank Update
The Shark Tank Blog constantly provides updates and follow-ups about entrepreneurs who have appeared on the Shark Tank TV show. As of July, 2021, the date of the first re-run of this episode, there is no evidence this deal closed with Lori. Since the first re-run is only 3.5 months after the original air date, they could still be in due diligence. Since airing, in addition to Wal Mart, they are in ACE Hardware, Chewy, Bed Bath & Beyond, Petland, and, of course, Amazon. Revenue is $3 million so far in 2021.
As of November, 2022, the deal with Lori never closed. The company closed out 2021 with over $4 million in sales and should easily eclipse that figure for 2022. As of October, 2023, they are doing $5 million in annual revenue.