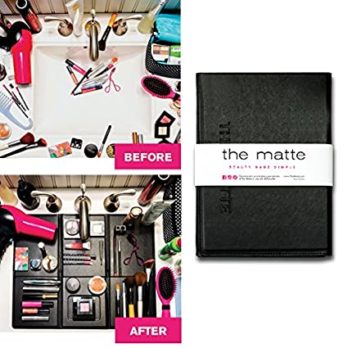 Melissa Clayton hopes the Sharks like The Matte, her temporary make-up counter, when she pitches it in Shark Tank episode 1215. She started the business in 2014 to combat a difficult problem: where to lay out all your make-up in a smaller bathroom. When she put make-up on, she was using her closed toilet seat and the edges of her small sink to lay out the make-up on and got sick of knocking things on the floor. There had to be a better way.
She envisioned a folding mat that folded to the size of an iPad and unfolded to cover a bathroom sink creating a "countertop" of sorts. After finding a freelance industrial designer, they went through many prototypes before landing on a final design. It's a great product for small sinks and for traveling, too. She ordered a first run of 500 units in 2015 and never looked back.
This wasn't Melissa's first entrepreneurial venture, either. She founded Tiny Tags in 2012. That business makes personalized jewelry. She started it because she wanted to have a special, personalized piece of jewelry to honor the birth of her first child. Now, Melissa wants a Shark to help her with her newer venture. Will a Shark go to the mat for The Matte?
Company Information
Video

Posts about The Matte on Shark Tank Blog
The Matte Shark Tank Recap
Melissa enters the Shark Tank seeking $100,000 for 20% of her business. She tells her story and hands out samples. The company did $20,000 in sales in the past month, all from word of mouth and influencer referrals. She wants a Shark's help marketing her product.
Unfortunately, the Sharks aren't that interested. They don't see a need and they don't like the name. One by one, they drop out. – except for Lori. She offers $100,000 for 33.3% because it will be a lot of work. Melissa counters, but Lori stands firm. Eventually, they do the deal.
The Matte Shark Tank Update
The Shark Tank Blog constantly provides updates and follow-ups about entrepreneurs who have appeared on the Shark Tank TV show. There is no evidence this deal with Lori closed. The first re-run of this episode comes just three months after the original air date, so they could still be in due diligence.
The deal with Lori never did close. Melissa still operates The Matte, but her primary focus is on her other business. On several occaisions, she's called the Matte her "side hustle."
In August 2023, Tiny Tags was listed on the Inc. 5000 Fastest Growing Private companies list. The jewelry is available at Target. As of October, 2023, lifetime sales are over $6 million.
I will post more updates accordingly.