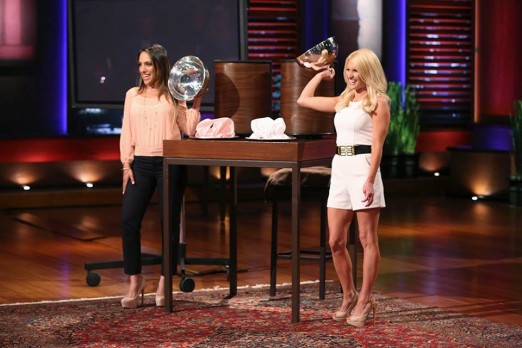 Juli Deveau and Ozma Khan are the Kookn Kap girls and they introduce their new school chef's hat to the Sharks in episode 503. The pair of lovely ladies co-created the Kookn Kap when they were making Asian food one night and noticed their hair smelled like the food they were cooking. The two women came up with the idea of a comfortable, washable, chef's hat to keep their hair from smelling like whatever they were cooking (it also keeps hair out of the food). They patented and trademarked their idea and started producing the Kookn Kap (right here in the USA) for sale. They have a lot of fun with their product and produced their own "infomercial." They believe they have the next million dollar idea.
Kookn Kap Shark Tank Recap
Juli Deveau and Ozma Khan may be two of the perkiest entrepreneurs ever to enter the Tank. They speak almost in exact unison, requesting an investment of $50,000 in return for 20% equity in the Kookn Kap business.
The elasticized bonnets prevent food odors from being absorbed into the wearer's hair, and keep shed hairs from landing in food during preparation. The pair have managed to sell 1,729 caps in their first year. The pair hand out samples of their caps, and Kevin O'Leary dons a pink cap, earning laughter from the other Sharks.
Mark Cuban calls the Kookn Kap "the perfect QVC product." Since he's not the Queen of QVC; that title goes to Lori Greiner, he's out.
Lori loves the Kookn Kaps and thinks the pair is "adorable" but she believes consumers could replace the cap with a shower cap. Deveau and Khan argue that the caps are breathable and inflammable.
Barbara Corcoran "can't imagine cooking with this thing on my head." She's out.
Robert Herjavec doesn't believe that his wife or other women will like the fashion of the cap. He's out.
Kevin O'Leary is the only Shark left. He's not interested, saying "Absolutely not." The final Shark is out, and the Kookn Kap ladies leave the stage with no Shark deal.
Kookn Kap Shark Tank Update
With a website link that goes no where, and social media that hasn't been updated since February of 2014, it appears that Kookn Kap did not take off quite the way the ladies had hoped. The pair kept their charming, old-world style cap company going for a brief time, but it appears that, without a Shark investor backing their idea, this inflammable head gear ended up burning out. Better luck next time, Ladies!
The business shuttered in 2013. As of August, 2021, Deveau works for Deloitte Consulting as a recruiter and Kahn is a Senior Medical Science Liaison at Abbvie Pharmaceuticals.
Posts About Kookn Kap on Shark Tank Blog
Company Information
Video