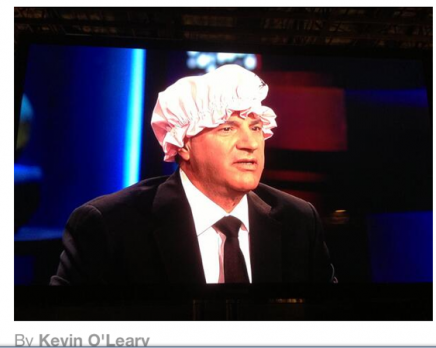 Mr. Wonderful will don a new style, chic chef hat in episode 503 as entrepreneurs Juli Deveau and Ozma Khan pitch their Kookn Kap to the Shark Tank panel. The two hotties, food buffs,  and self admitted "cheesy" marketers didn't like their coiffures getting smelly from cooking fumes when they were entertaining , so they created a chef hat that wouldn't muss up their styled hair while cooking. The result was the Kookn Kap, a kind of Amish headwear looking chef hat that they manufacture right here in the USA.
Chef Hat Infomercial?
Juli and Ozma clearly enjoy their product and being in business. They're having a ball making videos about the Kookn Kap in the infomercial style. They think they have the next million dollar product on their hands and they are going at marketing their chef hat with tongue firmly in cheek. Their slogan is "Hair smell like crap? Get a Kap!"
They started the business from scratch in the fall of 2011. After going through several design prototypes, they got the current version of their new school chef hat patented and they obtained all their trademark protections.  When they started the business, one of their goals was to appear on Shark Tank. They'd also like to expand their line beyond a single chef hat design and make it a brand, with aprons, gloves, mitts etc.
My Take
Can a chef hat be a million dollar business? Why not? There have been far crazier products that sold multi millions of units (think Snuggy). A utilitarian product with a catchy and fun marketing campaign and a low price point could ensure these two women are chef hat tycoons. The Kookn Kap only costs $10, so a lot of people will buy it – many just for the novelty of it. It doesn't hurt that Juli and Ozma are both very attractive and they have fun and magnetic personalities; these are two good qualities when you're selling a product that requires a lot of demonstration. As a (nearly) bald guy, I personally don't have to worry about cooking fumes in my hair, but I'm sure there are plenty of people who do.
Will the Sharks wear a Chef Hat?
As you can see from the picture above, Mr. Wonderful tries the KooknKap on for size (he looks like a really unattractive Amish woman in a suit), but will he open his pockets? The Kookn Kap girls have sales, a fun message, and proof of concept; Mr. Wonderful likes "strong businesswomen" too, so he may make an offer; just don't expect him to wear a Kookn Kap ever again! I can't see Robert or Barbara getting too excited about his, they'll both think it's hokey. Mark may be dazzled by the Kookn Kaps girls' good looks; he has a history of investing in good lookers! Lori seems to be the logical Shark what with her QVC connection, the question is will she think it's a hero or a zero? I think the girls make a deal based on  the pre show PR buzz; it has that "we got a deal on Shark Tank feel."