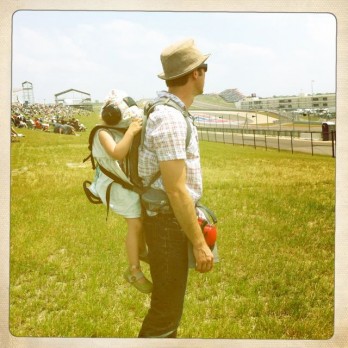 Erick Jansen and Nathan Jones invented a light weight child carrier and day pack out of necessity, they just got tired of their kids losing steam when they went on day trips and other adventures. The pair worked on a few other consumer products together before they created the Freeloader, but those never got beyond the prototype stage. Jansen and Jones did their first product run in the summer of 2013. The friends and fellow Austin firefighters invented the Freeloader to solve the problem they had and they hope the Sharks will give them a hand getting the business off the ground.
Indiegogo Crowdfunds Freeloader Child Carrier
Like many other Shark Tank entrepreneurs, Jansen and Jones looked to crowdfunding to get the money for their first manufacturing run. We've seen a lot of successful KickStarter Campaigns in the Tank, but this is the first time a business that used Indiegogo to crowd fund has taken the plunge. Apparently, KickStarter has some restrictions on certain child products, so the guys looked elsewhere. They raised $32K – $2K more than they were asking for, and used the money to fulfill 300 pre-orders. They'd like to do a second run by the end of 2013 – maybe with a Shark!
The Freeloader sells for $279 – about twenty bucks less than other competing child carrier products on the market. Essentially, it's a day pack with a light-weight, fold down seat that will hold a kid up to 80 pounds (when they get that big they can WALK). Unlike other child carrier products, the Freeloader doesn't have a bulky frame, so it's more comfortable (and not as dorky looking) to wear and use.
My Take
As regular readers know, I have 5 kids. I've lugged more little "freeloaders" over the years than Jansen and Jones combined! I have more than one child carrier in storage and I probably would have bought one of these back in the day. While I am glad all my children are now fully ambulatory, I certainly remember having to scoop them up and tote them along to keep moving while we were on various outings. The convenience of a comfy child carrier can make or break a day out with the kids. I just wish they had a multi-seat option!
The guys have proof of concept when they walk into the Shark Tank; they've sold units in 12 different countries. The success of their Indiegogo campaign gives some social proof to the new child carrier concept as well. While a Shark Tank appearance will certainly help sales, all these guys need is some PO financing to get going. Since it's competitively priced, it could gain rapid market share if they went about marketing it properly – and if they had a Shark's help. I'd expect their website will see some serious traffic after airing, I just hope they have product to meet the demand.
Will the Sharks be Freeloaders?
Children's products have had a mixed success rate in the Tank in the past, but the Freeloader child carrier is somewhat unique since it's the first product pitched by two dads. Usually the "momtrepreneurs" pitch the kid's products. On the surface, the Freeloader meets the criteria for a Shark Tank success story: the product is unique, it solves a problem, and they have sales. Entertainment value aside, there could be multiple offers. If Lori sees it as a QVC product, expect her to be aggressive with her offers. I can't see Robert going for this, but I'd bet a bottle of wine Mr. Wonderful makes a royalty offer. Barbara is big into her grandchildren, so she's plugged in to what parents (and grandparents) want in children's products; she could make an offer. The guys are from Texas, so Mark Cuban may jump in; he has small children too, so he may see the utility of a quality child carrier.
I'm not sure they'll get a deal, but this is one of those pitches where the entrepreneur doesn't need one to get their business to the next level. If they don't get a deal, expect a new Indiegogo campaign to run on Saturday morning. Jansen and Jones will make a splash with their child carrier and if they follow the model set forth by Gary Gagnon (ReMixx Sneakers) and Shelton Wilder (The Shemie), they could have their next run funded in a few weeks by "the crowd." Either way, set the clock back 12-15 years and I'll take 5!