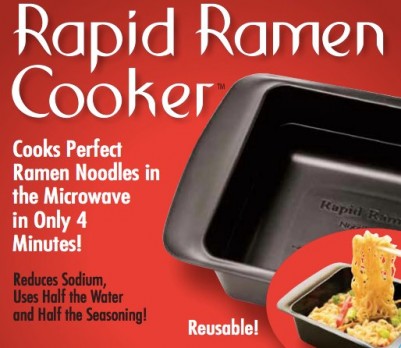 Chris Johnson's Rapid Ramen Noodle cooker gets introduced to the Sharks in episode 503. This is the first big consumer product in season 5 and Johnson has already hit the ball out of the park with his Ramen noodle cooker. He launched the business in late 2012 and as of this writing, he's in EVERY SINGLE Walmart, dozens of grocery chains, and he's in negotiations with the two biggest noodle manufacturers to talk about co-distribution. Ramen Noodle  packaging will soon have Ramen noodle cooker instructions on their packaging! That's a lot to accomplish in just 10 months.
Basically, the Ramen noodle cooker is a squarish tray, slightly bigger than a block of Ramen noodles. The secret is in the "patented reservoir design that circulates the water providing perfect heat distribution." Rapid Ramen cooks the ubiquitous noodles in half the time and with half the water and sodium. Just pop the Ramen in the microwave and it's ready to eat in just a few minutes – no boiling water or waiting for the noodles to set. I's the "world's fastest and easiest way to cook Ramen Noodles."
Rapid Growth for Ramen Noodle Cooker
Johnson saw his business literally explode overnight. He walked into a Sacramento area Walmart and asked the manager to sell his bowl. Walmart LOVED the invention and Johnson sold out. Now, he's in every Walmart. With online sales logging around 1500 units a week and exponentially increasing retail demand, Johnson moved from packaging product for shipment in his garage to contracting with a local shipping and fulfillment facility.
Johnson is a guy whose heart is as big as his pre-show sales figures. He has Pride Industries handling his shipping. They're the company that creates "meaningful jobs for people with disabilities." Johnson's little sister has Downs Syndrome. Using a business with a conscious and purpose like Pride Industries goes to show that for Chris, there's much more than just money at stake.
My Take on Rapid Ramen
Like many other college students, I thought Ramen noodles were their own food group for four years. They're still a staple on my shopping list to this day. I have two college-aged kids and they love the stuff. My son will go through a case of Ramen in just a few days! His favorite care package item: do I really have to ask?
I eat them too, especially in the winter time. There's nothing like a hot bowl of Ramen noodles with lunch on a cold, winter day. We usually have a case or two in our pantry because everyone likes them. If you could possibly make it easier to cook Ramen, I want one. I think Rapid Ramen is going to be nearly as ubiquitous as the noodles themselves.
Do Sharks Eat Ramen?
This may be the first time Ramen Noodles caused a feeding frenzy among Sharks! Johnson will blow them away (wait for the "BOOM" during his pitch) with the simplicity and universal appeal of this product. 95 BILLION packs of Ramen get eaten every year, all over the world. Rapid Ramen has global appeal. If each and every Shark on the panel doesn't bid on this, they need to leave the Tank right now. Expect multiple offers and some wild negotiations during this pitch.
Johnson just started negotiations with the two largest Ramen Noodles makers in the world to co-distribute his Ramen Noodle cooker. I wonder if that's a Shark Tank created negotiation or if Johnson made the connections on his own. If he doesn't make a deal on the air, I will be very surprised. Any one of the Sharks can bring value to this business. Johnson may not need them though. He's come quite a long way on his own, so he could say "no thanks" to the Sharks' offer. His most recent news coverage looks like a Shark Tank Update segment as it is. One thing is certain: I am "IN" with a chicken flavored Ramen pack.