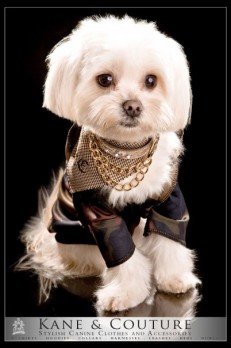 Amber Lee Forrester hopes to bring some doggy style to the Tank in episode 505 with her business that puts on the dog called Kane and Couture. Dog fashion is a new business type in the Shark Tank. We've seen other pet related products on the show before, but never high fashion dog apparel for pooches. Amber is a young woman from Detroit who got her degree from Fordham Business School and relocated to New York to break into the fashion business. Unlike other fashion and apparel entrepreneurs who swam with the Sharks in the past, Amber is introducing doggy style and "canine couture."
After Amber got out of school, she worked around in New York a bit, doing marketing and event work. Kane and Couture  launched in 2009 and Amber hooked up with The Workshop at Macy's , "an exclusive retail vendor development program designed to give select high potential minority and/or women business owners the tools to better succeed and sustain growth in the retail industry." Dog fashion is becoming a big business and Kane and Couture has 3 different lines of canine fashions and accessories in over 80 retail outlets.
Dog Fashion as a Business
I'm not one to dress my dog up in a dress or drop big bucks on a diamond studded dog collar, but there are a lot of dog owners out there who do. The pet industry is a $52 BILLION a year business and trending higher, so even a small piece of that pie can be a multi-million dollar per year business. Higher end pet products are trending upward too, according to the American Pet Products Association. Traditional "human" brands like Paul Mitchell, Omaha Steaks, Origins, Harley Davidson and Old Navy are now offering canine (and feline) products from shampoos to foods to dog fashion collars and apparel.
Whether Amber started Kane and Couture because she saw opportunity or just likes dogs or both remains to be seen. It appears she knows how to sell and run a business. She's taken her doggy style from obscurity to the edge of urban chic in just a few short years. She models her dog apparel and fashions after famous human designers and all her products are made in America (we like that at Shark Tank Blog)!
Do Sharks go for Doggy Style
One clue that the Sharks bite on Kane and Couture is the ABC press release which says the Sharks "first scoff" at Amber's business. The release implies they stop scoffing at one point and they may stop scoffing because Amber's driven some serious sales through Kane and Couture. She's not one of these business school types who has a concept, Amber hustles her dog fashion accessories at trunk shows and industry events at a pretty hectic pace. She's "out there" with her product.
The one area she looks like she needs some help with is her website and social media presence. She openly admits she "sucks at Facebook." She's too busy building her business to pay attention to Kane and Couture's web presence, but once she appears on Shark Tank, she better get a crash course!
Robert is the most obvious target, since he's the dog lover. Amber better make sure he doesn't drop one of her models, like he did when The Bear and the Rat visited last season!  Lori may be interested if she believes doggy style will sell on QVC. Mr. Wonderful has a history of shunning pet related products, so I think he'll be out. Daymond may want a little doggy style in his fashion portfolio and he's based in New York, so he could keep an eye on the business. Mark probably gives the "I don't know enough about the industry" excuse and bows out gracefully. As for me, I'm not much for dog fashion, but I like doggy style, I'm IN!