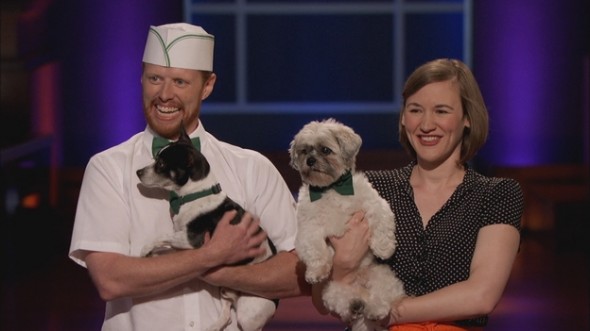 The Bear and The Rat Cool Treats for Dogs might win the "longest business name on Shark Tank" award! Husband and wife entrepreneurs Matt and Meg Meyer pitch the Sharks on their line of frozen yogurt for our canine friends in episode 407. The Meyers have been making their pro-biotic, gluten-free, frozen yogurt for dogs since 2010. The Bear and the Rat Cool Treats for Dogs is named after the Meyer's  rat terrier, Laika (The Rat) and Quimby, their  Lhasa Apso (The Bear).  The frozen yogurt is human grade, but made for dogs. The products are animal-nutritionist and veterinarian approved. The dogs seem to like the flavors, which include "Bacon Peanut Barker,"  "Banana Peanut Barker, " and "Choc o Not."
The Bear and The Rat Shark Tank Recap
Matt and Meg came into the Shark Tank seeking a $125k investment for 20% of their business. They have around $30K in sales and Meg reveals they are working on a deal with Petco. They pass out samples for the Sharks to taste and it appears The Bear and the Rat appeals to dogs much more so than Sharks; the Sharks DO NOT like the product!
Daymond goes out immediately. Mark thinks they are way overvalued; he's out. Kevin thinks their niche is too small, so he's out too.  Lori likes the Meyers, but she's not a pet food person; she's out. Robert is a known dog lover. At one point during the pitch, he gets one of the dogs to come over to him. As he picks the dog up, it squirms away and falls on the floor. Luckily, the pooch is unharmed. Robert, despite his love for the dogs, thinks the business is too overvalued, so he's out too.
The Bear and The Rat Cool Treats for Dogs Shark Tank Update
The Bear and The Rat benefited greatly from their Shark Tank exposure. Even though they didn't get a deal, they got a lot of interest from retailers. They still aren't in Petco, but sources tell me they are in many Whole Foods and other stores  in the Denver area.
Sadly, the Bear crossed the bridge in 2014. The company made big inroads getting into over 3000 small, independent pet stores. They are also in Publix super markets in the southeast. In June, 2019, the company announced it would be in Whole Foods stores nationwide.
As of February, 2022, the company is humming along with annual revenue of $5 million.
Posts About The Bear and The Rat on Shark Tank Blog
Company Information