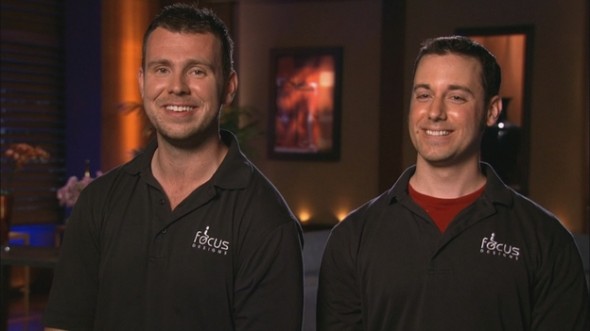 A Self Balancing Unicycle, created by entrepreneurs Daniel Wood & David Martschinske of Focus Designs, wheels into the Shark Tank in episode 407. Their self balancing unicycle, called the SoloWheel, is essentially a wheel with two pedals. While standing on the pedals, the battery-powered wheel speeds up and slows down according to how you lean into it and it has smart sensors that keep you balanced . It's kind of like a Segway, but more compact and less expensive. The Solowheel is small enough to carry around, yet powerful enough to go 10 miles per charge. Daniel and David think their SoloWheel could change urban transportation forever.
Self Balancing Unicycle Shark Tank Recap
Dan and Dave entered the Shark Tank seeking $300k for 10% of the Self Balancing Unicycle. Kevin and Robert take it for a spin while Dan and Dave tell them they sold their first 100 units at $1,800 apiece. With backing, they think they can build up $1 million in sales in a year.
Lori isn't too excited about the product, so she's out. Daymond's not willing to take a risk on an unproven product (even though he didn't mention it on air, he's also involved with something similar); he's out. Mark thinks manufacturing will be a nightmare, he's out too. During the conversation, Dan and Dave reveal they have a patent on the technology behind the Solowheel and they'd already licensed it. This sparks Robert and Kevin's interest and they team up on an offer for $300k for 33%. They have a deal!
Self Balancing Unicycle Shark Tank Update
The dealWhile there isn't a lot of news on this deal's progress, one thing is for sure: you can buy a Solowheel now! When the episode first aired, they were not available for purchase. We will continue to follow the progress of this business and I, for one, can't wait to take one for a spin!
Over the years, the company introduced new models: the Scorpion, an urban friendly model with a handle that doubles as a kickstand; and the Extreme, a model that can handle rougher terrain. As of February, 2022, they are still in business and doing $5 million in annual revenue.
Posts About the Self Balancing Unicycle on Shark Tank Blog
Solowheel Looks to Roll Out New Invention
Company Information