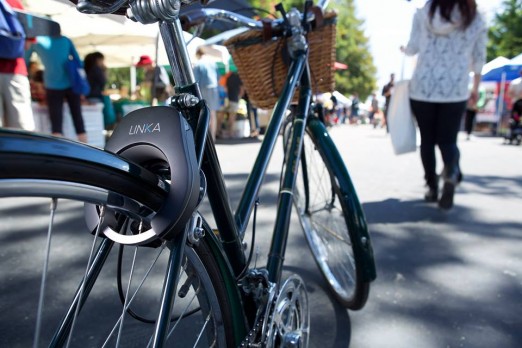 Mohamed Mohamed pitches Linka, a smart bike lock that mounts to your bike's frame, in Shark Tank episode 720. Mohamed launched the business with a wildly successful Kickstarter campaign in May, 2015; he raised $123,772 with a goal of $25,000. He hasn't delivered any products yet, but the website says they'll be available around the first of June, 2016.
Linka is a "smart" bike lock that mounts to the frame of a bike over the rear wheel. When engaged, the bike can't be ridden away. For extra security, it can lock to a bike rack with a standard bike chain. What makes it smart is the accompanying app that pairs with each Linka lock. When you approach your bike, it automatically unlocks. To lock it up, just tap it. The app also gives you a tamper alert and emits a 100 decibel alarm if someone starts messing with your bike. The Linka app even alerts you if you are in an area that has a lot of bike theft and provides parking recommendations.
With over 2 million bikes stolen every year, bike locks are a big business. The Link a lock isn't a toy – it's a heavy-duty bike lock. What makes it appealing to bike enthusiasts is its simplicity (it's essentially a high strength steel ring) and the accompanying technology. While some Kickstarter backers are getting impatient with production delays, most seem patient as long as the communication is transparent.
Linka probably needs a Shark to do another production run and for help with manufacturing. Will Mohamed lock up a deal for his smart bike lock?
Linka Shark Tank Recap
Mohamed Mo enters seeking  $250K for 10%. He created the product because he was fed up with bike theft. He shows a video demo and tells the story of the product. When the Sharks ask what's to stop someone from picking it up and walking away, he demonstrates the alarm feature. The lock is also very difficult to cut off. Robert doesn't care about the alarm, he thinks it needs a chain.
Linka costs $49 to make and sells for $129 or $159 with the chain option. He's made $40K since the Kickstarter ended. He explains that his parents came to America to make their children's lives better. He went to City College of New York and worked for Toyota in manufacturing engineering.
Even though the lock unlocks automatically with Bluetooth, Barbara thinks there's something psychological about a chain; she's out. Robert says a dog is the best burglar alarm and a chain is the best deterrent to bike theft; he's out. Kevin says the Sharks see better mouse traps all the time, but he's not excited about the category; he's out. Lori thinks the alarm needs to be louder, she wishes him well, but she's out. Mark says the big issue is competition. He says if Mohamed was really on to something, he'd have his hands full; he's out.
RESULT: NO DEAL
Linka Shark Tank Update
Although the Linka founders walked away with no Shark deal, they did glean some tips from the Sharks. The idea of a physical chain has been added as an accessory, relying upon Linka's existing lock mechanism for an added level of security without adding additional steps for removal. The company also introduced the LEO2 lock with 4G LTE connectivity and GPS tracking.
The social media and web page are active and the product line is growing, indicating good things for Linka. It appears, although the Sharks didn't bite on this deal, that Linka has the bike security market locked up. The company is still in business as of November, 2022, with annual revenue of $4 million..
Posts About Linka on Shark Tank Blog
Linka Company Information
Video