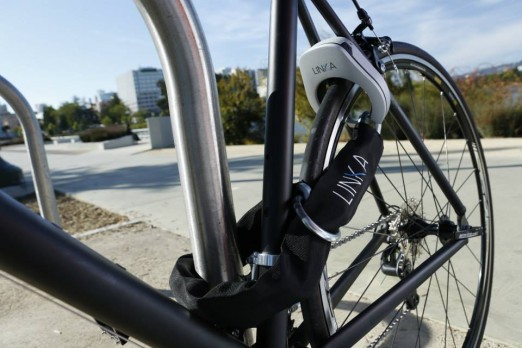 Mohamed Mohamed likes his bike and uses it a lot, but he doesn't want it stolen, so he created Linka: the smart bike lock. Everything seems to have an app today, why not a bike lock? Linka made a lot of waves with a successful Kickstarter that raised over $120,000 and was a "staff pick." Mohamed will see if he can hook a Shark to help with his new business in episode 720.
The lock itself is fairly simple. It's a steel ring that mounts to the frame of the bike and locks the rear wheel in place when activated. You can buy a chain from Linka to attach it to a bike rack, or use an existing chain. The thing that makes it a smart bike lock is the accompanying app that pairs with each lock. There are no keys, you simply tap the bike lock to close it and it automatically unlocks with the app. There's also an alarm feature that goes of if someone starts tampering with your bike and a mapping feature that alerts you if you're in a high theft area.
Anyone with a bike has a bike lock of some sort, but over 2 million bikes get stolen every year. Even so, it's still a big business. Linka hopes the momentum of Kickstarter, the growing trend of linking EVERYTHING to a smart phone app, and the ubiquity of bike locks will equal big sales. When Mohamed taped the segment, he was fresh off the Kickstarter, but hadn't shipped any product. He likely needs a Shark for a little extra kick.
My Take on the Smart Bike Lock
I owned three bike locks in my life. The first was a chain with a plastic cover and a combination lock. The second was a Kryptonite Lock that I replaced with another Kryptonite Lock when I lost the keys. I've had my current Schwinn Mirada since 1987. I lock it so it doesn't get stolen; so far, it's working.
I think the technology behind Linka is cool, but I don't think I'd use it personally. This is one of those things that brings out the Luddite in me: what I have now works, why go all high-tech – especially for the $129 price tag. My Krytonite works fine and, to be honest, I don't live in a high bike theft area. While I believe millennials will eat this up, I wouldn't buy it.
Do Sharks Lock up a Deal?
When Mohamed filmed his pitch, he hadn't delivered the Kickstarter pre-orders. He still hasn't shipped and it doesn't seem like he will until June 2016 at the earliest. This comment on the Kickstarter page sums things up:
We definitely found some issues that we wanted to make sure didn't get repaired after Kickstarter backers received the first batch. We've seen and heard of campaigns where the product is shipped on time or close and it's quite inferior to the products delivered just 2-3 months later. That would be a bummer but we agree, there needs to be a balance otherwise, there will always be issues!
It is smart to make sure you deliver a product that works and it seems Linka's backers are being patient, as long as Linka keeps them updated, but not delivering over a year after funding on Kickstarter isn't always a good sign.
Being "pre-revenue" isn't always good for the Sharks, either – unless they take a big bite out of the equity. Linka needs to have what the Sharks will think is a "fair" valuation if a deal is to be made. The thing that makes me think this pitch gets rejected is the length of time until delivery. Products, particularly ones made overseas, often take a long time to get delivered after a Kickstarter; it's by no means an indicator of failure on the entrepreneur's part. If a Shark were involved, they'd bring connections, expertise in overseas manufacturing, and cash to the table and the product would have been made by now.
For that reason, I think the Sharks are out.