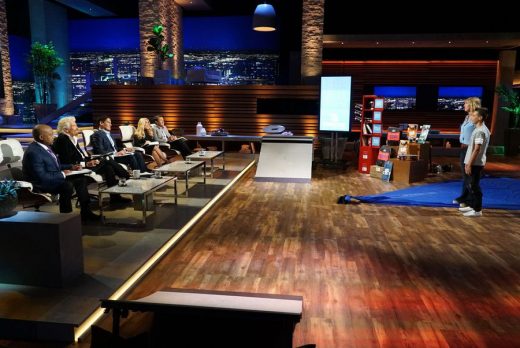 12-year-old Carson Kropfl and his mom, Carrie, want a Shark to invest in Locker Board – skateboards designed to fit in a backpack and school locker, when he enters the Shark Tank in episode 9 – the season 9 premier. When Carlson started middle school in 2016, he wanted to ride his skateboard to get there. Unfortunately, his favorite skateboards wouldn't fit in his locker. When he couldn't find a suitable skateboard that fit, he decided to make his own.
Carson got started in his home workshop, making each Locker Board by hand. He uses recycled skateboard decks from  the skate shop retailer network, and from slightly damaged boards from other manufacturers.  The 17 inch long boards are the smallest one-piece skateboards on the market. Once demand got too much for his small shop, he contracted with PS Stix Skateboard Manufacturing to make the boards.
Kropfl has some pretty high-powered mentors assisting him. He counts Wing Lam, Co-Founder of Wahoo's Fish Tacos, and Noah Murphy-Reinhertz, a sustainability expert with Nike's Sustainable Innovation Team. Carson, in addition to maintaining sustainable business practices, also supports the Tony Hawk Foundation which builds skate parks in underprivileged communities. He donates a dollar for each board sold to the foundation.
A Locker Board costs $99. The old, blemished boards get refinished with funky graffiti styling and brand new trucks and wheels. The 17 inch boards help newbies learn tricks faster, too. Carson also sells Streetubez, a sail for skateboards he invented with his mom that lets you windsurf on dry land.
He likely wants a Shark to help him amp up production. Will a Shark want to take a ride with this young entrepreneur?
Locker Board Company Information
Video

Posts About Locker Board on Shark Tank Blog
Locker Boards Recycled Mini Skateboards
Locker Board Shark Tank Recap
Carson and his mom enter seeking $60,000 for 15 of his business. He skates in with Sierra, does a few tricks and joins mom on the carpet. He gives his pitch – including about the Street Tubes skating "Kite" and Sierra gives out samples before heading backstage.  Carson tells the Sharks how he gets the used decks for free. He's been selling for 9 months on social media and has $10,000 in sales.
He wants the Shark money to upgrade his website, buy skate hardware in bulk and for upgrading his manufacturing. The boards cost $13 to make, they wholesale for $55 and retail for $99. He makes all the boards in a back yard shop. He even has patents pending on the boards. The Sharks are all impressed by Carson.
Lori says she likes Carson, but she's the first Shark out. Daymond said he's ask for too much equity which could stifle  the business's growth; he's out. Mark offers $60,000 for 20% and Richard asks if he can come in on it. When Mark says no, Richard offers $65,000 for 20%. Robert offers a straight loan at 8%. Carson asks Richard Branson what he'd do to help the company grow, Richard says he sees a lot of himself in Carson. Carson thinks for a second and they do the deal.
Locker Board Shark Tank Update
The Shark Tank Blog constantly provides updates and follow-ups about entrepreneurs who have appeared on the Shark Tank TV show. The deal with Richard did close. For the two ears following the original air date, Carson was homeschooled so he could work on the business. After he graduated middle school, he decided he wanted to go back to "real" school for his high school years.
In February, 2020, the company appeared in The Shark Tank Greatest of All Time Special in the "baby sharks" category which featured young entrepreneurs. In March, 2020, he did a licensing deal with Wham-O, the makers of the slip and slide and many other products. As of July, 2022, the Wham-O Locker Boards are available at Wal Mart, Dick's Sporting Goods, Amazon and many other online and retail outlets.