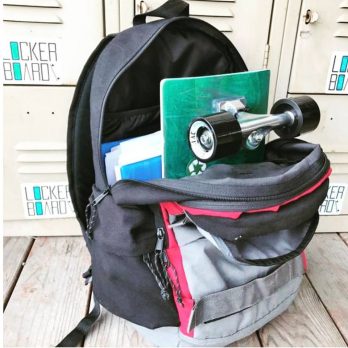 Carson Kropfl and his Locker Boards roll into the Shark Tank in the season 9 premier. Locker Boards are miniature skateboards (17 inches long) designed to fit into a school locker or backpack. They're made from old skateboards and factory seconds he picks up from other skateboard manufacturers. He cuts the old boards to size, refinishes them, decorates them in a radical graffiti style, and adds heavy-duty wheels and trucks. The end result is a high performance skateboard – only smaller.
Carson initially did every board by hand, but his business took off and he needed to contract a lot of the work out to PS Stix Skateboard Manufacturing. Now he's in the Tank looking for a Shark to get him to the next level. His mom, Carrie, joins him onstage. Together they invented Streetubez, a "sail" of sorts that turns a skateboard into a land based windsurfer. That invention is on the Locker Boards website too, but it's the skateboards that drive most of the company's sales.
The original idea for LockerBoards came about when Carson decided he wanted to ride to his new middle school. His full-sized boards wouldn't fit in his locker, so he made one that did. Having a smaller board makes it easy to tote around and store, plus it has the added benefit of letting new boarders learn tricks a bit faster. The business looks like it's booming, but Carson probably wants a Shark to help with capital for growth.
My Take on Locker Boards
I will NEVER get on a skateboard again in my life. It's been at least thirty years since I even tried one! My 13 year-old daughter has two boards: a long board and a regular size board. She rides them everywhere – I can't remember the last time I saw her on her bike. Since she takes the bus to her school, she might not need a small board for her locker, but when I showed her the Locker Boards, she said they'd be good for tricks.
She also liked that locker boards fit in a backpack. My daughter plays volleyball for a USVA club team, so she goes to a lot of volleyball tournaments. She said it would be cool to bring a skateboard. One of the venues is near a skate park and she always wanted to bring a board and go there during breaks or after the tournament. She didn't want to carry her big board around all day though. Locker Boards could be the solution to that problem and there may be one under the Christmas tree this year!
Will the Sharks Roll with this Business?
Robert already has an interest in Hamboards, so he may pass. If he feels it would complement that business, he could take a flyer and work out some sort of partnership. Locker Boards don't compete with Hamboards, so there could be some synergy there. I don't think Lori or Daymond get involved since skateboards are out of their areas of expertise.
That leaves Mark and Sir Richard Branson. Mark likes entrepreneurial kids and has partnerships with several. If Carson is sharp enough and impresses Mark, he could bite. Sir Richard Branson started his first business at age 16, so he's no stranger to the pitfalls young entrepreneurs face. Whether that makes him get involved with Locker Boards is another matter altogether. He's a renowned adventurer and extreme sports enthusiast, so there is some synergy, but is it enough to invest?
I think Carson walks away with an investment from either Mark, Robert, or Sir Richard. Which Shark will take a ride with LockerBoards? Tune in and find out.