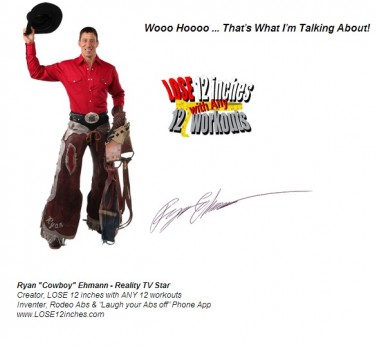 Lose 12 Inches with any 12 workouts is an exercise program designed by Ryan "Cowboy" Ehmann, a former rodeo rider turned fitness trainer. Ryan pitches the Sharks in episode 417 on his exercise program that promises ripped abs by making sure you exercise in your "Cowboy Fit Zone" to burn more belly fat and calories. The Lose 12 Inches program is based on the idea that exercising within your proper heart rate zone produces the best results in the shortest amount of time. Ryan developed his program, which sells for $89.95, to overcome chronic back pain and get in shape to win a national rodeo title. He is his own, best proof that his product works and claims over $1 million in sales of his previous  fitness product, Rodeo Abs. Think p90X with a cowboy twang.
Lose 12 Inches Shark Tank Recap
Ryan Ehmann moseys into the Shark Tank in episode 419, with his business, Lose 12 Inches, looking for a $120,000 in exchange for 20% of his company. His pitch starts out with a cowboy yell, and stays energetic throughout. He tells his story, explaining how he went from riding in rodeos to training as a personal trainer to learn how to cure his own lower back pain. Yanking his shirt open, he shares the proof of his claims, showing off his "rodeo abs" with a shout of "woo-hoo!" and earning laughter from the Sharks.
Robert Herjavec wants to know more about the system. Ehmann's business side shines through the excited cowboy persona as he explains that his system includes software that helps the user personalize their workout for maximum efficiency.
Ehmann has a plan. Starting with the internet, to build awareness, then move to infomercials to amp up the brand. Lori Greiner believes he has the personality to succeed, but she's worried about making specific claims about the product.
Is There Money in This?
Kevin O'Leary wants to know how he "can make money." Ehmann explains that his system includes DVDs, and his own exercise machine, called "Rodeo Abs." It's already selling in Australia and Germany, and has cleared $1 million in sales.
Kevin O'Leary doesn't believe he's the right partner for Lose 12 Inches. He's out.
Mark Cuban isn't buying into the cowboy persona. "I'm sure you made a great rider, but on the business side of things, I'm just not there, so I'm out."
Robert Herjavec "can't get there" either. He's out.
Lori Greiner thinks "potentially, there's something great here," saying "Sometimes the best cowboy for the job is a cowgirl," but the claims are an obstacle for her. She's out.
Daymond John thinks Ehmann "is the brand." In a surprise move, he offers Ehmann the $12o,000 for 25%. "I believe in you," he says, earning another enthusiastic shout from the Cowboy. Lose 12 Inches gets a Shark deal.
Lose 12 Inches Shark Tank Update
Daymond John is not only a Lose 12 Inches investor, he's a client as well. Ehmann set John up with a sample of his workout system, and John happily got in line with the many other satisfied customers. Since partnering with the Shark, Ehmann continues to grow his Lose 12 Inches business, reaping reviews full of praise across the internet. Whether or not his heart rate system is the most effective on the market, Ehmann has certainly garnered the loyalty of millions, and his business is paying a healthy return on the original investment. Daymond John acted on pure faith in Ryan "Cowboy" Ehmann, and is smiling all the way to the bank. It's fair to assume that he shares Ehmann's enthusiastic sentiment; "Now that's what I'm talkin' about!"
Cowboy Ryan gets an update segment in episode 727. In the update segment, we see Cowboy Ryan in  his new gym doing workouts with customers.
In June, 2021, Cowboy Ryan rebranded and opened a new gym in Merrick, NY. The new brand is called Barre6. At the gym, people do a 28 minute workout which promises to result in an "Instagram body." He says he will be opening "multiple locations in 2022." As of August, 2023, there is still just the one gym.
Posts about Lose 12 Inches on Shark Tank Blog
Cowboy Ryan Ehmann Update Interview
Lose 12 Inches Information