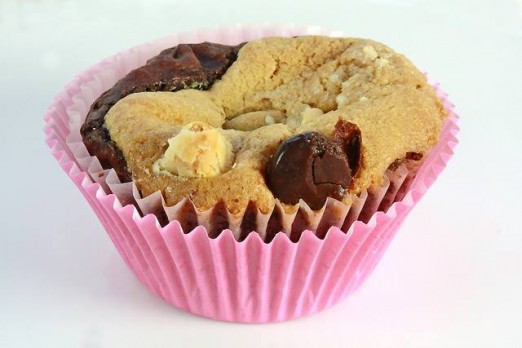 Marques Brooks, Jovon English, and Naimah Harris hope the Sharks have a sweet tooth when they pitch Milk and Brookies, their super popular, LA area treat business, in Shark Tank episode 706. The "Brookies" in Milk and Brookies are a combination brownie and cookies, baked into a muffin cup. The result is a decadently scrumptious sweet treat.
Brookies are the brainchild of Jovon English who decided to mash-up cookies and brownies one day when she was craving both. They were so good, they began making them en mass in 2014 at a commissary bakery in LA and selling them on their website. They also sell at fairs and pop-up shops throughout the greater LA area.
The reviews are unanimous: people LOVE Milk and Brookies. One news anchor called them "better than adult relations!" Milk and Brookies has thousands of raving fans and they can't keep up with demand.
They're most likely looking for cash to open a retail shop and to expand their online sales capabilities. Will a Shark take a bite out of Milk and Brookies?
Milk and Brookies Shark Tank Recap
Marques, Jovon, and Naimah enter seeking $100k for 20% of the business. Jovon explains that New York has the "cronut," San Francisco has the "cruffin," and now LA has the Brookie. She describes how she builds a Brookie as she hands out samples with milk. The Sharks eat the Brookies and like them, though Mr. Wonderful says they're very rich.
They currently sell Brookies online only and reveal that they're all part-time in the business. Naimah says they all "make time" for the business. Currently,they bake everything to order and they've done $14K in sales.  The Brookies sell for 14-17 bucks for six and cost 75-91 cents to make.
Mr. Wonderful says to scale, they need to have four products and sell them for 20 bucks a half-dozen. Mark says they should charge $9.95 each or $30 per dozen. He thinks they're a bake-sale, not a business – he's out.
Mr. Wonderful says they are a hobby, not a business; he's out Robert loves it and he knows they'll make money, but it's too early – he's out. Barbara loves their personalities, they remind her of Daisy Cakes, but they're still too early; she's out. In keeping with the early theme, Lori says they're too early; she's out too
Milk and Brookies Shark Tank Update
The Shark Tank Blog constantly provides updates and follow-ups about entrepreneurs who have appeared on the Shark Tank TV show. In the aftermath of their initial appearance, sales went through the roof: a 3000% increase!
As of December, 2022, the company is still in business and has products in Orleans and York, a west coast deli chain. Annual revenue is $3 million.
Posts About Milk and Brookies on Shark Tank Blog
Milk and Brookies Company Information
Video