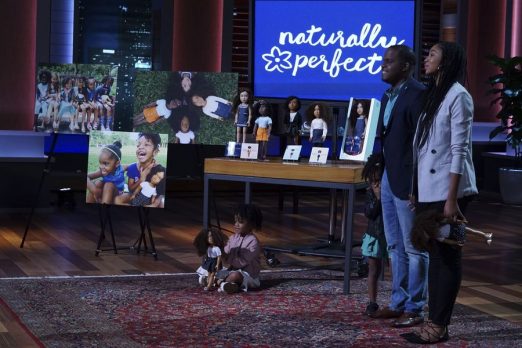 Jason and Angelica Sweeting hope the Sharks like Naturally Perfect, their line of dolls created for girls of color, when they enter the Shark Tank in episode 813. Anjelica created the dolls to "let girls know that they are beautiful." Instead of "Barbies painted brown," she wanted dolls that reflected the "face of a beautiful brown girl including a full nose, fuller lips, beautiful check bones, and brown eyes." The dolls' hair is kinky, curly and washable for a more realistic experience.
Each doll has a story and an interesting career, too. The Sweetings want girls to have a more realistic and positive view of the world and they hope to build self-esteem through dolls that accurately reflect their own image. Naturally Perfect resonated with the Kickstarter community. The Sweetings raised $84,743 back in May, 2015 to get their project off the ground.
Each of the four available dolls cost 85 bucks and their target age is 4-13. The Sweetings feel their daughters, and all girls, "need to see a reflection of their own unique beauty." They likely need a Shark to help them get into mass retail. Will the Sharks play with dolls?
Naturally Perfect Shark Tank Recap
Jason and Angelica enter seeking $200,000 for 20% of their business. The Sharks balk at the $85 price tag and Daymond wants to know if they have interest from large retailers. They do. After telling their story, they end up doing a deal with Daymond for $200,000 for 30%.
Naturally Perfect Shark Tank Update
The Shark Tank Blog constantly provides updates and follow-ups about entrepreneurs who have appeared on the Shark Tank TV show. The real story takes place after Shark Tank. Daymond never closed the deal. They took orders through Christmas of 2018, but never delivered any dolls, leaving children disappointed and parents furious. The website and social media pages are now gone.
The couple contemplated bankruptcy and made a brief attempt at rebranding the company as Mayzeepedia. They failed. Basically, anyone who ordered a doll lost their money. Angelica tried another Kickstarter for Epic Elements, multicultural action figures that "are based on elements in the periodic table." That project failed to raise enough funds.
Posts About Naturally Perfect on Shark Tank Blog
Naturally Perfect Company Information
Video