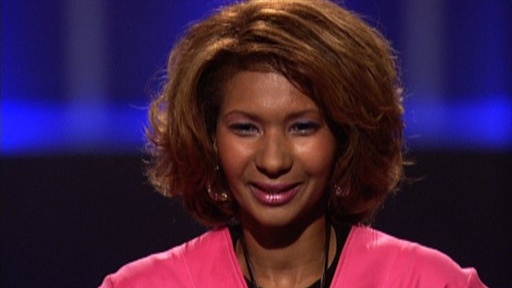 Nicole Jones believes that the Shark Tank can help her bring her Pillars of Slippers business from a one-woman show to something larger, that will serve upscale shoe shoppers all over America in episode 110. A self-proclaimed "shoe professor," she has created an in-home party business model around designer shoes. Her vibrant, over-the-top personality has built her business, but is it enough? Will the Sharks see the opportunities to sell franchises which include a custom pink SUV and a $100,000 investment? Nicole is confident, but she's swimming with the big fish now.
Pillars of Slippers Shark Tank Recap
Jones jumps right in to her debut on the Shark Tank, asking for a $150,000 investment for a 15% stake in her company. She begins her presentation by strutting down a pink carpet and putting on a mini fashion show that has Barbara Corcoran shaking her head and the male Sharks laughing and clapping. The amusement quickly turns to serious discussion. Jones explains that her brick-and-mortar store has become a liability in the slow market. Her sales over the past year have been overwhelmingly driven by her home parties and website.
Jones' plan is to close the storefront, eliminating the cost of upkeep, and focus on her home-party and internet sales distribution. She's planning to create a franchise business model, which would allow women to buy into the business at the hefty price of $100,000 up front. For the Sharks, the numbers just don't add up. Kevin O'Leary points out that she made $64,000 in sales last year, and she's asking franchisees to pay $100,000 to sign up: "I can't decide if you're crazy, or you really know what you're doing," he remarks, adding that she has "shafts of white light, clear thinking, in between these wafers of nutbar factor 6."
Because of the over-sized cost of the franchise, Kevin Harrington doesn't believe Jones will be able to create successful Pillars of Slippers franchises. He's out. Daymond John says "There's nothing there for me, either." He's out. Robert Herjavec points out that Jones is "the best Shoe Professor in the world", and she's only made $64,000. He doesn't believe she can sell franchises, and he's out. Barbara Corcoran finds Jones' energy overwhelming, saying "I can't partner with you; I'd be on drugs." She declines to make an offer. Kevin O'Leary thinks Jones' "nutbar" quotient is just too high. He's out as well.
Pillars of Slippers Shark Tank Update
Despite the setback, Jones remains confident after the Shark Tank. She decides to scale back her franchise idea, replacing the flashy pink SUV with something subtler. Over time, though, the Sharks' fears regarding Pillars of Slippers come true. Jones gives up on her internet and party sales. She continues to pursue design and sales on a smaller basis, seeking new opportunities to express her flamboyant approach to business. She's out of business.
Pillars of Slippers Information
AfterShark Video