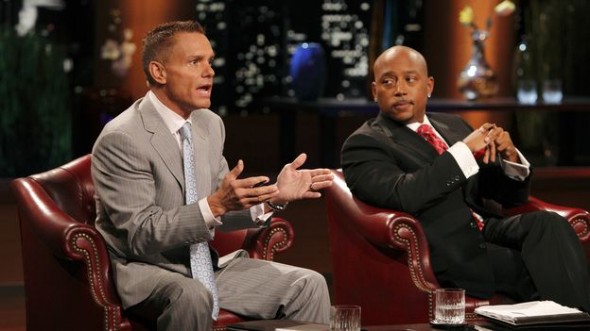 Episode 110 features five entrepreneurs pleading their case to the panel of Shark investors. Michele Kapustka and Melisa Moroko seek an investment for SENDaBALL, a business that sends inflated play balls with personal greetings written on them. Architect and inventor Mark Burginger pitches Qubits, a construction toy for kids that's a cross between Lego and an erector set. Nicole Jones, self-proclaimed "shoe professor," wants a Shark to partner in Pillars of Slippers – a "Tupperware Party" business that sells shoes. Aida and Phil Lough want a Shark to help them grow Llama Brew, an organic fertilizer made from Llama poop. Alan Kaufman introduces Nubrella, a hands free umbrella that fits on the wearer's shoulders.
Which businesses leave the Shark Tank with an investment and which ones leave empty-handed?
Episode 110 Air Dates
First Run – February 5th, 2010
Follow up segments featuring past Shark Tank success stories are a regular feature on Shark Tank. Episode 110 features an update segment on Lifebelt from episode 102. Entrepreneur Robert Allison didn't do a deal with the Sharks, but he's had some success since appearing on the show!
There were 14 Shark Tank Episodes for Season 1. Casting is currently closed, but it never hurts to get a head start on next season! If you would like to appear on the show, check out our Auditions and Casting information.
Episode 110 – The Shark Investors and Entrepreneurs
The Shark Tank Episode 110 entrepreneurs make their best pitch to the panel of five Shark investors who will use their own money if they choose to invest. The Shark Investors negotiate on the spot without any previous information, which differs from typical negotiations between venture capital investors and entrepreneurial start-ups.
Companies pitching the Shark Investors must go through a rigorous due diligence process before an on-air deal is completed. Shark Tank Blog follow ups help you keep track of the companies that end up successful and the ones that don't complete their deal.
Thank you for reading SharkTankBlog, the number one site for Entrepreneurs, Investors and Fans. Our content updates multiple times day, giving you the latest information on Episode 110, Season 1, and all other seasons and episodes.