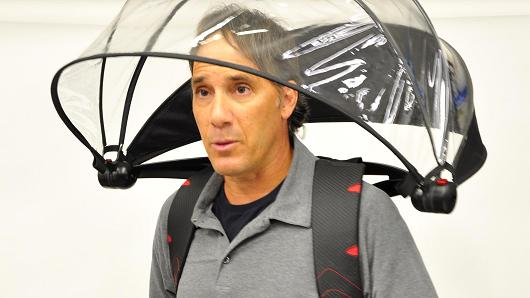 Alan Kaufman comes to Shark Tank episode 110 with an answer for the outdated, awkward design of the traditional umbrella: the Nubrella. Kaufman's sleek backpack style design allows for the umbrella "hood" to be worn hands-free. The collapsible hood allows the user to adjust for changing weather patterns, making the wearable umbrella perfectly suited to hands-free use. There's no need to take it off when the rain stops. Just push the front back, and the umbrella is tucked neatly out of the way, ready to be redeployed at the first sign of clouds.
The idea of building a better mousetrap may be a pipe dream, but Kaufman hopes that his revision of the traditional umbrella will net him a Shark deal.
Nubrella Shark Tank Recap
Kaufman is requesting a $200,000 investment in exchange for 25% of Nubrella. He's already invested over $900,000 of his own money to bring the product to market. He needs not only the Sharks' cold, hard cash, he needs their expertise and marketing channels to expand his business.
Kaufman explains that his Nubrella is impossible to invert. It blocks wind, helping the wearer to stay warmer in severe weather, and finally, the product is completely hands-free. The Sharks' interest is peaked. When Kaufman brings out his product, he's met with delighted laughter. Daymond John and Robert Herjavec immediately request to try them on. The two play with the Nubrellas, butting into one another and making jokes about space invaders.
Barbara Corcoran asks about the weight and other aspects of the Nubrella. Kaufman visibly gains confidence as he answers questions about the product. Kevin Harrington jumps in with a question about sales. The product has sold 3,000 units through word of mouth alone, and Kaufman reveals a recent change in manufacturing has brought the price down from $49.95 to $29.95, with a cost of $14. Kaufman explains that he has orders he can't fulfill because of the high demand. Daymond John brings up the clincher: Does Kaufman have a patent on his product. He has one in the US, and patents pending around the world.
Barbara Corcoran believes the Nubrella is too much of a niche product. She's out. Robert Herjavec quickly follows. Kevin Harrington makes an offer: $200,000 for 65% of the company. Kevin O'Leary bows out because he doesn't have a distribution channel. Kaufman turns down Harrington's offer, and counters with an offer of 35%. Daymond John offers to join Harrington, reducing the percentage to 60%. Kaufman counters, offering 50% of the company. The Sharks respond that they want 51%, in order to control the company. John sweetens the deal by offering continued financing as long as sales remain strong. After a tense few moments, Kaufman accepts.
Nubrella Shark Tank Update
After the show, Kaufman reveals that he only gave up the controlling interest because of John's distribution channels and Harrington's advertising experience.
"To me, what they bring to the party is more important than the money," says Kaufman.
After the show, Harrington realized that the price point made Nubrella a poor match with his infomercial business, and his part of the deal fell through. Daymond John attempted to leverage his contacts to get Kaufman a larger distribution platform, but that, too, was doomed to failure.
In 2016, Kaufman sued Sony Pictures et al in Massachusetts State Court "seeking compensation for lost investment opportunities, a cut of the revenue earned each time an episode featuring Nubrella airs, and a clear label indicating when the episodes originally ran." He won a settlement of $20,000. A second lawsuit alleging one count of negligence and one count of breach of fiduciary duty and covenant of good faith and fair dealing was dismissed in Federal Court.
In 2020, he re-branded the company to Canope. As of July, 2021, he is still selling on his website and on Amazon with annual revenue of $1 million. Kaufman passed away in November, 2022 and the business was shuttered.
Nubrella Company Information
Video