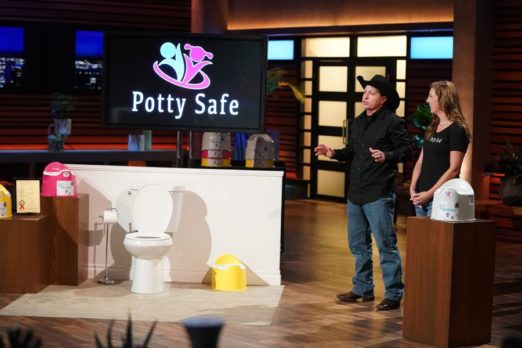 Colt and Stacy Hall hope the Sharks like Potty Safe, their spill proof training potty, in Shark Tank episode 1123. The couple first invented the product back in 2013 while potty training their daughter. Children are copycats, so their little one often tried to empty the waste bowl herself, usually making a mess in the process. They tried to find a locking potty chair, and when they couldn't, they invented one.
Without much experience launching products – Stacy is an accountant and Colt is a welder – it took them some time to get to market. They held down their full-time jobs while developing Potty Safe in the evening. They eventually patented their invention. The secret is the waste-bowl locks to the base, making it difficult  – if not impossible – for a child to remove it and cause a spill.
The couple opened for business Aug 21, 2018 and began selling their product online. Initially, they had product in one local mom and pop shop, too. Now, they sell a lot of Potty Safes on Amazon; they're in Bed, Bath and Beyond, buybuy Baby and Walmart too. They come in grey, yellow and hot pink and cost just $28.95. Every Potty Safe sold is 100% made in the USA too. The couple likely wants a Shark to help with broader distribution and for help funding purchase orders. Will a Shark think this is a safe investment?
Company Information
Video

Posts about Potty Safe on Shark Tank Blog
The Potty Safe – Locking Potty Trainer
Potty Safe Shark Tank Recap
Colt and Stacy enter the Shark Tank seeking $50,000 for 15% of their business. The couple is all in on their business. They re-mortgaged their house and emptied their savings account to start the business.  It costs $6.50 per unit to make and they retail for $28.95. They only have $17,000 in sales for the year (2019) which causes concern among the Sharks. Even though they have a potential deal with WalMart in the works, the Sharks all think it's too early for an investment.
Daymond id the first Shark out, followed by Robert, Mark and Kevin. Lori thinks for a minute, then she goes out. As they're leaving, Lori calls them back, She says "the Squatty Potty company is at $160 million in sales. Maybe we can have them look at this because we have a lot of brand expansions, we can see if there is something we can do together." She offers $50,000 for 20% and the Halls accept.
Potty Safe Shark Tank Update
The Shark Tank Blog constantly provides updates and follow-ups about entrepreneurs who have appeared on the Shark Tank TV show. The deal with Lori never closed. The couple filmed their segment in September, 2019. At that time, they just launched on Amazon. From that point to their original air date, sales grew tenfold. After their air date, sales increased by 500%. As of May, 2022, they can be found on Amazon, Bed, Bath and Beyond, buybuy Baby and Walmart – stores they got into between taping and airing. By August, 2023, they had over $5 million in lifetime sales.