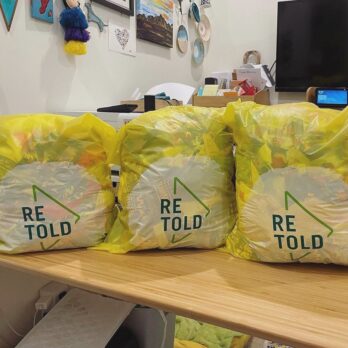 Alan Yeoh and Amelia Trumble seek an investor for ReTold Recycling, their clothing and fabric recycling service, in Shark Tank episode 1414. They started the business in 2019 to divert as much old clothing from landfills as possible and to create awareness about sustainable practices surrounding recycling. They met while working at MAC Cosmetics between 2012 and 2016. Alan has an extensive background in Customer Relations Management and he's worked at big companies like AirBNB, Uber, British Telecom and more. He's currently head of CRM at WalMart. Amelia has a background in digital marketing and works as a freelance digital marketing consultant and as a growth advisor at Render Better, a Shopify optimization platform. Both people are running their business while holding down full time jobs.
ReTold Recycling is a mail in recycling service for old clothing and other household textiles. Once the company receives your old clothing, they distribute it to charities, thrift stores, reuse partners, up-cyclers, rag companies and more. To date, they claim to have saved over 20 tons of textiles from going into landfills. Their goal is to divert as much fabric from landfills as possible by creating a community around their movement, #NoLandfills.
ReTold Recycling is growing rapidly. They have customers in all 50 US states and they are profitable. The way they make money is by selling the bags you send your recyclables to them with. A three pack costs $41.50, a 10 pack is $129.50 and a solo bag is $14.50. They also offer a subscription service which sends 3 bags up front then 1 bag every quarter. This option gives you a 15% discount. The company offers a rewards program that gives you points you can redeem at one of their partner businesses. Each bag is postage prepaid and is made from compostable cornstarch "plastic" that holds about 5 pounds of clothes. They likely want a Shark to help spread awareness of their business and movement.
Company Information
Posts about ReTold Recycling on Shark Tank Blog
ReTold Recycling Shark Tank Recap
Alan and Amelia enter the  Shark Tank seeking $300,000 for 15% equity in their company. They start out by saying everyone needs to wear clothes and that Americans throw away 12 million tons of textiles per year. That's why they created an easy way for people to recycle their unwanted clothing and household textiles. They send a postage paid bag, you put about 5 pounds of clothes in and mail it back to them. They sort them for delivery to thrift stores, upcyclers and textile recyclers. Nothing goes into landfills.
Kevin wants to know if there is any interest and they say there is. There's a lot of search traffic for "clothing recyling." A single bag is $14.50. When they receive the clothes, they get about 10 cents per pound from their recycling partner. Mark wants to know why people would use this instead of dropping stuff off at Goodwill. Those places won't take everything. Lori questions the price. Amelia says they haven't had price resistance because people view it as a convenience.
They launched in July, 2020 and sales were $12,000, in 2021 sales were $175,000. This year (2022) they'll do $500,000. Profits are 43%. The company has brands approaching them for a plug and play solution to recycling. Emma recycles unused clothing at her other businesses, she wants to know the end game. They white label thweir bags for brands to sell on their websites. They've already signed one and have a couple more in the wings.
They charge $14.50. Shipping is 80% of that. In order to scale, they need to have several places to ship to. Currently 20% of their customers are in California and the cost to ship to the mid-west (where their recycling partner is) is expensive. Mark thinks they should put the bags in 7/11's and dry cleaners for them to sell and they need to get some margin for the stores.
Kevin says he'd be recycled before he gets his money back; he's out. Emma respects what they're doing but thinks $14.50 is expensive; she's out. Lori likes the mission but doesn't see how she'll make money; she's out. Robert wants to know where the money they'll make comes from. Amelia says licensing deals with brands will be where the gold is. Robert asks Emma if her businesses would use this and Emma says yes, but it should be a non-profit. After hearing that, Robert goes out. Mark asks if they're willing to try some of his ideas; he offers $300,000 for 25%. They counter at 22% and Mark declines. They finally accept his offer.
ReTold Recycling Shark Tank Update
The Shark Tank Blog constantly provides updates and follow-ups about entrepreneurs who have appeared on the Shark Tank TV show.
The first rerun of this episode in June, 2023 is just 3 months after the original air date. At this time, there is no evidence the deal with Mark closed. They now have a B2B page on their website for businesses.  They set up a branded bag for a company and host a branded landing page for consumers to print mailing labels. In June, 2023, they reached 80 tons of recycled textiles. At this time, reliable revenue figures are unavailable.
The Shark Tank Blog will follow-up on ReTold Recycling & Alan Yeoh and Amelia Trumble as more details become available.