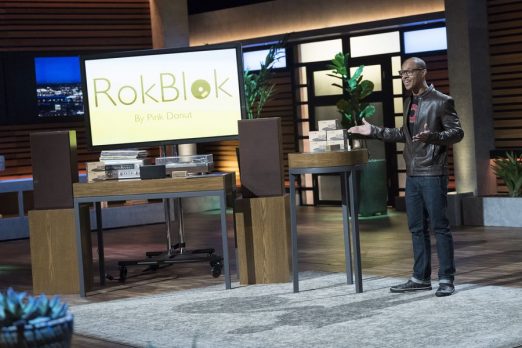 Logan Riley wants to rock the Shark Tank when he pitches RokBlok, a portable record player, in episode 910, the Shark Tank Holiday special. RokBlok is a block that rides on a flat vinyl record and plays the music like a real record player. It has a rechargeable battery and bluetooth connectivity for speakers or headphones; there's a built-in speaker too.
The product was designed by Riley's one man design firm, Pink Donut. The firm designs "things that we love and want to share with others." Riley is a music buff with a big record collection and he wanted to share his invention with others. Apparently, there were many others who wanted the product: Riley raised $351,816 in just a few days in a successful Kickstarter campaign back in December 2016.
As of October 2017, no product was shipped, but Riley was getting close. On November 30, 2017, the company announced it would ship in time for Christmas. Once the Kickstarter orders ship, he hopes to sell them for $99. Riley likely needs a Shark to help with the trials and tribulations of manufacturing. Will a Shark want to rock this block?
RokBlok Company Information
Video

RokBlok on Shark Tank Blog
The Rok Blok Portable Record Player
RokBlok Shark Tank Recap
Logan enters the Tank seeking $300,000 for 15% of the business. He gives his pitch and demonstrates the product. When he syncs it to a Bluetooth speaker, the Sharks are wowed. He hands out samples and says it can play on any type of vinyl except 78 rpm. The units cost $23 to make an sell for $99. He hasn't delivered any yet, but they're in production.
Barbara says it's "too early" and is the first Shark out. Mark thinks the market is too limited; he's out. Kevin thinks it's risky, but he offers $300,000 for 50% of the business. Lori says she's on the fence when Robert jumps in with an offer: $500,000 for 100% of the business. He'll also give Logan a 2 year contract with a 6 figure salary and a $5 per unit royalty. Logan agrees!
RokBlok Shark Tank Update
The Shark Tank Blog constantly provides updates and follow-ups about entrepreneurs who have appeared on the Shark Tank TV show. The deal with Robert never closed. It appears they never delivered all the Kickstarter units. There are a lot of angry and disappointed comments from backers. Many backers who bought one said they didn't work well and the sound quality was poor. As of June, 2021, the website says they are out of stock with new units coming in "the summer of 2021."