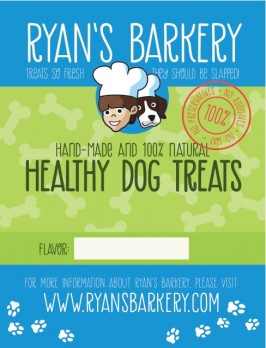 Ryan Kelly is the youngest Shark Tank entrepreneur to appear in Shark Tank season 4. The eleven year old entrepreneur from Stamford, CT (along with his mom Daniela) pitches his wholesome, home-made, dog treats in Shark Tank episode 424. Ryan began making the pooch snacks when he came home with a rescue beagle and was repulsed by the smell of the treats he bought for his new best friend. When he realized the dog didn't like the store-bought treats either, he made his own. In true bootstrapping fashion, Ryan sold the treats door-to-door in his neighborhood. Dogs and their people LOVED them and Ryans Barkery was born.
READ THE UPDATE INTERVIEW WITH RYAN AND HIS MOM
Ryans Barkery Shark Tank Recap
Ryan and his mom, Daniela, came into the Tank seeking $25,000 for 25% of their business. He's only made about $800 in sales to date, but he thinks with a Shark's help, he can get into grocery and pet stores. He needs an investment to get into a commercial kitchen. The Sharks like his margins: the treats cost less than forty cents to make and he sells them for four bucks! One by one, the Sharks go out, except Barbara. She offers $25,000 for 25%. The other Sharks try to talk Ryan out of doing the deal, but he's ALL IN!
Ryans Barkery Shark Tank Update
After the show, Ryan became a school celebrity and a successful young businessman. Daniela, Ryan's mom, is still very involved in the business. They revealed they are now in over thirty stores and are  approaching six figure sales. They have a "big announcement" coming which we'll hear about when Ryan's Barkery is featured in an update segment in season five, episode 521.
The big announcement is they've changed the name to Ryan's Ruffery. After doing the deal with Barbara, Daniela and Ryan sell over $10K plus per month and the treats are now baked at a co-packer. They got into Target stores after the show, too.
The downside is, Daniela is overworked and can't devote time to her family. She also had a stroke which affects her memory and dexterity. She's having a hard time managing things. The good news is, they have a new, big-box store order from Petsmart for 400 stores. The bad news is they need to figure a way to produce enough product.
Barbara has concerns about Daniela being overworked. Daniela thinks she's doing so much that she's not doing it well enough. Barbara said she bought into the business because Danilela was there. Barbara believes in Daniela, but she wants to hire someone to help out with the growth. With the weight off Daniela's shoulders, they are on their way to becoming a national brand.
Sadly, Daniella passed away on October 18, 2018 and the business fizzled out.
Posts about Ryans Barkery on Shark Tank Blog
Ryans Barkery Information