Episode 424 Shark Tank Season 4 FINALE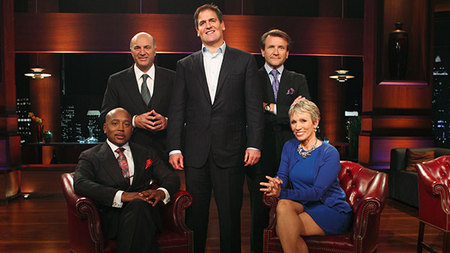 Episode 424 brings Shark Tank's fourth season to a close with 4 new entrepreneurs pitching the Sharks for an investment in their businesses. Fans also get a look at the final "celebrity guest" of season 4. This time, the celebrity is a cartoon! In the First "Shark Tank" Extra, we'll get a look at Phineas and Ferb's Dr. Doofenshmirtz's Trip to the Shark Tank, as he pitches the Sharks his latest "Inator" invention.
As for the "real" entrepreneurs, Val Brennan pitches her new online dating site called Three Day Rule. 11 year-old Ryan Kelly introduces the Sharks to his home-made dog treats he sells from his business called Ryan's Barkery. Trew Quackenbush and Corey Ward entice the Sharks with their Cincinnati-based gourmet grilled cheese shops called Tom and Chee. In what could be the biggest deal of the year, Ryan Frankel and Kunal Sarda, two Wharton School business graduates, have the Sharks circling and starting a potential feeding frenzy over their live translation app called Verbalizit.
Follow up segments featuring past Shark Tank success stories have become a regular feature on Shark Tank.  Episode 424 updates fans on Beverly Vines-Haines and Charlotte Clary, the two Washington State grandmas who scored a deal with Mark Cuban and Barbara Corcoran in episode 408 for their xylitol candy chips called Ice Chips.
Episode 424 is the final episode of Shark Tank season 4. There were 26 Shark Tank Episodes for Season 4. Casting for season five is open and there are open casting calls throughout the USA. For information about how to be on Shark Tank, check out our Auditions and Casting information.
Episode 424 – The Shark Investors and Entrepreneurs
The Shark Tank Episode 424 entrepreneurs will make their best pitch to the panel of five Shark investors who will use their own money if they choose to invest. The Shark Investors negotiate on the spot without any previous information, which differs from typical negotiations between venture capital investors and entrepreneurial start-ups.
Companies pitching the Shark Investors must go through a rigorous due diligence process before an on-air deal is completed. Shark Tank Blog follow ups help you keep track of the companies that end up successful and the ones that don't complete their deal.
Thank you for reading SharkTankBlog, the number one site for Entrepreneurs, Investors and Fans. Our content is updated multiple times day, giving you the latest information on Episode 424, Season 4, and all other seasons and episodes.